The Limited-Edition Pride Pieces You Need To Shop Before The End Of The Month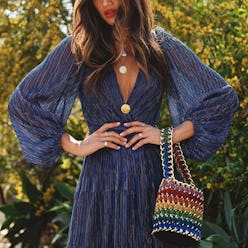 Not sure if you heard, but it's still Pride Month, which means we're still going strong in honoring, empowering and advocating for the LGBTQ movement. Scores of fashion brands contribute with limited-edition styles, rainbow-bedecked wares and slogan pieces from which proceeds are donated to a variety of LGBTQ causes. Here, a few of our stylish favorites and the charities they support.
Wear It With Pride
Madewell is proud to donate 50% of the purchase price of this rainbow tee to the Human Rights Campaign, America's largest civil rights organization working to ensure LGBTQ people are safe, equal and free in every community.
Each purchase of these socks helps to fund literacy programs and book donations to communities in need.
Flaca rainbow tassel jewelry will donate 20% of proceeds to the NCLR's #BornPerfect campaign to end conversion therapy.
The rainbow stripe on the back of the brand's classic sneaker is a proud detail to show Kenneth Cole's continued support for equal rights.
A percentage of proceeds from each pair of True Colors—designed by Oscar Zaldaña—will go to the True Colors Fund throughout Pride month.
All proceeds from the Loewe tees will be donated to Visual AIDS. Founded in 1988 to preserve and promote the work of HIV-positive artists, Visual AIDS is committed to raising AIDS awareness and creating a dialogue through visual art exhibitions and publications. The organization also assists artists living with HIV/AIDS.
Milk Makeup will donate 50% of the retail purchase price of the Pride Pack for the month of June to The Lesbian, Gay, Bisexual & Transgender Community Center (The Center) in NYC.
Apple is proud to support LGBTQ advocacy organizations working to bring about positive change, including GLSEN, PFLAG, The Trevor Project, Gender Spectrum and The National Center for Transgender Equality in the U.S., as well as ILGA internationally. A portion of the proceeds from the Pride Edition band sales will benefit their important efforts.
Every year, Levi Strauss & Co. donates to organizations helping LGBTQ communities around the world. As a long-standing friend of the LGBTQ community, Levi's shows some love with a collection celebrating key moments in LGBTQ history.
Women's J.Crew worked with Human Rights Campaign to create a rainbow-hued version of its popular "Love first" tee for Pride month. The brand will be donating 50% of the purchase price for every shirt sold to the Human Rights Campaign, which fights discrimination against the LGBTQ community.
For every item sold, Urban Outfitters Community Cares will donate $15 to GLSEN, the leading education organization focused on creating LGBTQ-inclusive schools.
The 2018 Converse Pride Collection, designed by Miley Cyrus, celebrates those who advocate for a tomorrow where youth are free to be their true authentic selves. All net proceeds of the Converse Pride Collection will support the Happy Hippie Foundation.
A portion of the proceeds from Dr. Marten's Pride collection goes to the Trevor Project, a national organization focused on crisis intervention and suicide prevention for LGBTQ youth.
Under Armour built this exclusive gear to celebrate athletes everywhere.
Ten percent of sales from H&M's Pride collection will be donated to the UN Free & Equal campaign for equal rights and fair treatment for LGTBQI+ people everywhere.
Warby Parker launched this collection during LGBTQ+ Pride Month to commemorate and recognize the impact that the full spectrum of lesbian, gay, bisexual, and transgender people have had on history.
In addition to the Pride Collection, Alexis Bittar is further celebrating June's Pride Month by donating $5,000 to New York's LGBTQ Community Center.