One-Stop Shopping For Everyone On Your List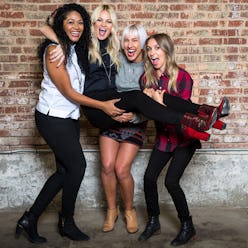 Caitlin Crosby, the founder of The Giving Keys—an amazing organization which employs people who are transitioning out of homelessness—has teamed up with Gap for the holidays. If you haven't even scratched the surface of your shopping list, consider this your guide to getting everything you need in one fell swoop from Gap.
Gift Ideas From Gap
Gift Idea: Buy a handful of Gap x The Giving Keys necklaces to cover everyone from your BFF to your sister to your colleagues at work. Proceeds from this accessory go to Girls, Inc., an organization that empowers girls across the country.
Gift Idea: Who doesn't love cozy knits? Gap is the ultimate destination for luxe cardigans, pullovers and button-ups everyone will love. Go for festive plaids and checks for the more eccentric people on your list and stick to solid neutrals for those with a more classic aesthetic.
Gift Ideas: Bold accessories like red ankle booties and a wide-brim hat are always crowd pleasers.