Everlane Is Finally Launching A Line Of Denim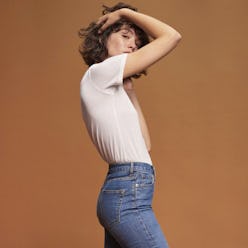 We all share the same struggle when it comes to shopping for denim. The good pairs all cost more than we'd like to shell out, and the more affordable offerings tend to be of a noticeably lower quality.
Everlane to the rescue. Its genius direct-to-consumer (read: affordable) model has allowed us to shop an ethical array of leather goods, basic knits, pants and more since 2010. Now, the sustainable brand has taken the next natural next step we've all been waiting for: a line of jeans. Keeping costs well under three digits (yep—each pair will retail for a mere 68 bucks), the new denim range is set to launch online September 7.
However, creating this line was no easy feat. In an interview with Vogue, founder Michael Preysman reveals that it took two years of research to figure out the details. First, the brand needed to find a factory that could produce jeans without polluting the environment. Next, came the design. Rooted in American workwear, the classic straight-leg style will be available in four colorways: classic denim blue, a lighter denim wash, black and white.
While Preysman tells Vogue that more silhouettes and washes will be introduced over time, we shouldn't expect it to be anything too over-the-top. "We're going to keep it pretty minimalist. What we're not going to do is distress, rip and repair in big ways," he says.
You can join the waitlist here.
To read the full article, visit Nylon.