The Secrets Behind The Most Expensive Wedding Gowns On The Market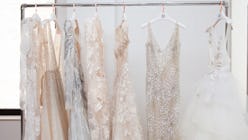 If you've ever fallen down a rabbit hole of scrolling through gorgeous, glamorous wedding dresses on Instagram, then you've likely spotted a little, elaborate something from Galia Lahav. These couture, princess-like creations are dramatic, to say the least, full of sparkle, sheer materials, and super long trains. But what exactly goes into creating something so beautiful, which could cost a bride—with no exaggeration—upwards of $100,000? For that, we turned to the fashion house's head designer, Sharon Sever.
After posing for a few shots with his former teacher and current boss, Galia Lahav herself, Sever shared his inspiration behind spring 2018's couture bridal collection, why he's over the term "sexy bride," and that time he made a dress with (ahh!) six million Swarovski crystals.
Coveteur
What was the inspiration behind the Spring '18 collection?
"It's about the senses—not only a scent or something that obvious, but the sensation you get when you smell something. They say the strongest memories are from scents, and it's true. Sometimes you smell something and it reminds you of an unforgettable moment or a memory that is triggered by a scent. Your wedding gown should always be memorable. Maybe that's why it just triggered me."
Galia Lahav is often labeled as sexy, but you don't like the term "sexy bride." Why not?
It's too obvious. It's kind of saying the 'white dresses' or the 'bridal trend.' A woman is a sexy thing, so why call it the 'sexy bride?' I call it the 'modern bride.'"
Many of these dresses have amazing backs. Is the back of the dress just as important as the front?
"The dress has to be beautiful; it doesn't matter if it's the front, back or the side. But the most important thing is the bride. It's the bride that makes it beautiful, or naive or racy. It depends on the person who is wearing it and how they carry themselves." Do you do a lot of custom? "I know brides always want a personal touch. There's a lot of appreciation for your initial design, but everybody's looking for something personalized to say, 'That was my dress. It's unique, nobody else is going to have it.' It could be a minor tweak, but it changes everything for the bride. And I kind of enjoy it because every dress is a creation. When I look at the dresses in the studio, all the rows of mannequins, I can see most of the brides and how the mannequin comes to life and gets a different character. Sometimes, you have two or three dresses that are the same, but they have a different life. You can tell that it's not the same person wearing it. That's how it should be." What was the most expensive dress you've ever made? "I've had dresses for $100,000, and I've had dresses that were crazy—I mean, things you wouldn't even dream of. It's a challenge, and it's fun. There are a lot of customizations that can be really beautiful for half the price, which is already quite a sum of money. But a lot of research goes into each dress when you want to make something from scratch with a designer and have something that is yours. It is worth it, but it does take a lot of work."
Coveteur How much time does it take to make one dress? "Besides ordering the fabric and all the raw material that's needed, the handwork takes a few weeks—and that's only the finishing touches. The sewing takes a lot of time. Ideally, [we'd work on a dress] between a year to six months, because that allows you the time to really see what's happening with it or maybe do a fitting in the middle. Otherwise, some creations do take over a year. Not all of them, but the special ones take time and more research." What kind of research do you have to do? "I had a bride that wanted her dress to twinkle like fairy dust, and until we found how to do that embroidery for her, it took a lot of sampling. We ended up stitching over six million tiny Swarovski [crystals] on her dress. It looked innocent, but when you see it up close, or when she moved, it was something unreal. I wish I had more brides like that." Do you feel like social media plays a part in what you create? "Of course. The world has changed. I listen to 16-year-old girls' opinions on Instagram. But it matters today, and you have to accept it. If you fight it, then you're just a snob. And why not? It's fun! It makes me feel young." To view the original article, visit Coveteur. Related: This Is What It's Like to Wear Bridal Couture Yes, You Can Wear Vintage To Your Wedding Surprisingly, None Of These Wedding Dresses Cost Over $1,500