4 Denim Styling Tricks Creative Girls Swear By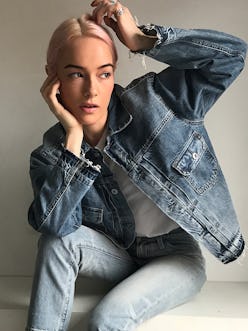 Get The Look
Fashion is a mode of art. It's a supreme way of expressing yourself without ever having to utter a word. This is something that the team behind covetable denim label AG understands deeply: the brand practices an artist's attention to detail in everything they do, from their choice in materials to their vertically integrated manufacturing process based in LA.
AG's Spring 2018 campaign celebrates the brand's long-standing commitment to quality and individuality, so we decided to tap inspiring creatives to share how they wear their favorite AG spring pieces in a series called Living Art.
First up: the fashion world's go-to nail artist Madeline Poole, aka MP Nails, whose artistic tool of choice is a teensy nail brush for painting mini masterpieces. She teamed up with us to show how she works spring AG pieces embellished with splashes of paint, utilitarian zippers, and unique washes into her totally detail-oriented lifestyle. No matter the occasion—gallery hopping, weekend brunch, or a meeting with other creatives—Poole's styling tips will make sure you never blend in.
Watch The Wash
If you normally shy away from the Canadian tuxedo trend, try mixing washes so it's not tone-on-tone. Even better: take a hint from Madeline and make an eye-catching side-zipper, medium-wash denim jacket the focal point. Tone down the rest of the look with a fresh white tee and lighter-wash slim boyfriend jeans.
Do The Tuck
To keep the overall look sleek, tuck in your tee then lift your arms overhead to loosen it the perfect amount. This way, all eyes will be on the cool fraying on the jacket and distressing at the waist.
Go For A Crop
A cropped trouser is no longer just for someone of model height. By choosing skinny, slightly flared denim that hits above the ankle, you're instantly elongating yourself. (It also shows off a killer boot.) To add interest to the look, go for a dual-wash style like The Isabelle that will have others doing a double take.
Double Up
A denim jacket with a painterly palette is unexpected and versatile. Wear it a little oversized as a nod to the boyfriend trend, layering over a sweater for chilly days, or go one size down and toss it over a dress in lieu of a cardigan.