Launched Today: Iris von Arnim E-Commerce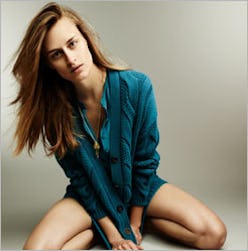 Be it a chilly summer eve or the transition into fall, there's nothing like cozying up in a comfy and chic sweater. Need a new go-to? Sweater maven Iris von Arnim, aka the 'Queen of Cashmere,' is launching e-commerce on her website today! The German brand is one of the top of its generation, so we're super-stoked that the collection is available [finally!] in the US via just a few clicks of a button.
From lush jewel tones and stonewashed shades to fashion-forward textures and silhouettes, there are so many great options to choose from. Sophisticated and classic pieces with a twist? We just can't resist!
Availability: Iris von Arnim Marionella Cardigan, $1695, Iris von Arnim Paris Sweater, $1536.