How To Wear One (Affordable) Dress To Every Wedding This Summer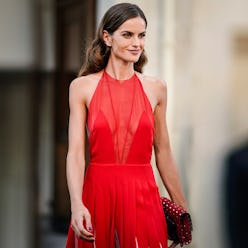 If you're like us, your summer calendar is probably packed to the brim with weddings. And as much as we love all the dancing, celebrating and getting dressed up, these fancy fêtes can leave us—and our bank accounts—a bit drained. Figuring out how to reinvent your look for every event is no easy task, and buying a new dress for each occasion isn't realistic. So how does one get through this season of love with ease? It just takes a little bit of pre-planning and one very versatile dress. Ahead, four ways to style an affordable and universally flattering silhouette that will have you feeling like a million bucks every time you wear it. See for yourself.
1 Wedding Guest Dress, 4 Ways
Island Vibes
If you're headed to a tropical destination, get your beach babe on with natural materials like rattan and raffia—finish with exotic extras like bright tassel earrings.
Fresh Femme
Play up the soft romantic vibe of this dress with girly add-ons like pearls and floral print—a solid choice in fresh mountain air.
Golden Girl
Create the perfect mashup by styling your ruffled frock with sleek accessories in white and gleaming gold. We love this for either seaside vows thanks to its nod to the nautical or in the city for sleek, chic vibes.
Modern Garden Girl
Embrace a lush, green setting by optioning for a playful clutch and foliage-inspired earrings—a little novelty goes a long way.