How To Wear Denim Like A California Girl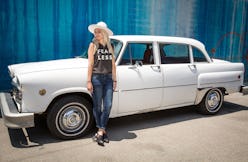 Who better than a true California girl to demonstrate the coolest way to wear jeans? Born and raised in Hollywood, Caitlin Crosby is a singer-songwriter and founder of charitable organization The Giving Keys, and just so happens to count denim as part of her daily uniform. Whether she's at the office or on stage, true baby blues from Gap—from skinnies to a button-down shirt to a great jacket—never fail to capture the spirit of her laid-back, SoCal style. See how she wears her favorite Gap denim for looks that prove to be eternal classics.
Layer Up
Proof that head-to-toe denim is not only doable, but ultra-cool: Caitlin rocks her favorite Gap pieces (a jean jacket, button-down shirt and distressed skinnies) together for a sharply layered look.
Photos: Monti Smith
The Perfect Denim Wardrobe
Nothing complements a classic denim wardrobe like Western-inspired accessories. A cool fedora, leather belt and ankle boots are the perfect add-ons.
All In The Details
Break up a monochromatic denim palette with a leather belt in a neutral hue. Timeless jewelry, such as a great watch or classic gold rings, completes the look.
California Cool
You can't beat a great tee-and-jeans combo: Channel Caitlin's Cali-girl vibes by accessorizing with a wide-brimmed hat and ankle boots.