How To Dress Like Your Favorite Spice Girls In Honor Of Spice World's 20th Anniversary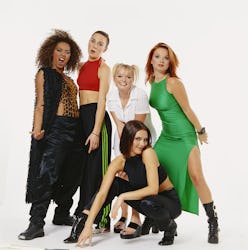 This winter marks the 20th anniversary of the premiere of Spice World—aka one of the most iconic movies of our adolescence. Tour buses flying through the air, secret bombs hidden on said buses and adorable British singers running through the streets of London in platform sneakers without batting a heavily mascaraed eyelash? We can't think of anything better. What's more, there were few girls who embodied the epitome of style in the late '90s and early-aughts quite like the Spice Girls. Ginger, Scary, Sporty, Baby and—of course—Posh pulled out all the stops when it came to their instantly recognizable fashion.
With the two-decade celebration of their film falling so close to Halloween, we're expecting the costume-friendly holiday to be rife with groups of five, all standing in formation as one of our favorite British girl groups ever. The only question is: How to make it stylish for today? We've adapted each girl's look, mixing in Chelsea boots, midi slip dresses and modern-day athleisure so we can rock these outfits on Halloween and mix certain pieces into our wardrobe for months to come. Ahead, check out how we're channeling the Spice Girls' style this season.
Spice Up Your Life
Posh Spice
Known for her little black dresses and modern take on Audrey Hepburn's Breakfast at Tiffany's style, Victoria Beckham's Posh is the easiest of the girls' style to emulate, Halloween or not. In fact, between the classic minidress, stiletto heels and glitzy-yet-understated jewelry and accessories, this is a look we'll be wearing long after the jack-o'-lanterns are taken down.
Baby Spice
With a penchant for light pink and blue tones, Emma Bunton took childhood trends into adulthood with her onstage persona, Baby. This season, we're reaching for a '90s slip dress in dusty rose and going all out with our childhood microtrends by adding a pair of platform sneakers and whimsical fur. On All Hallows' Eve itself, we might mix in knee socks for even more of a themed look.
Sporty Spice
Perhaps the embodiment of one of our favorite current trends, Melanie C's Sporty vibe is on point with every celebrity's favorite athleisure look. With a pair of track pants, ribbed tank and bomber jacket, you're good to go. We might even start saving our pennies for a splurge-worthy take on the best '90s tattoo choker necklace. Hey, a girl can dream…
Scary Spice
If there was one girl who went all out when it came to animal-inspired trends, it was Melanie B's Scary. Her wardrobe, rife with leopard, was an edgy one, to be sure. She often reached for leather and chain jewelry, mixing chunky shoes into the mix on most occasions. We're elevating her stage style by trading catsuits for midi dresses but keeping the vibe alive in textures and in tones.
Ginger Spice
Though an icon of the '90s and '00s, Geri Halliwell's Ginger harkened back to the '60s in style—a truly iconic sartorial time in London. This fiery redhead was known for her Union Jack patterns and retro-style boots. To make the look more wearable, we're styling the Abbey Road vibe with suede and a killer pair of Chelsea boots to finish off the look.