This New Designer Collab Will Actually Help You Get Dressed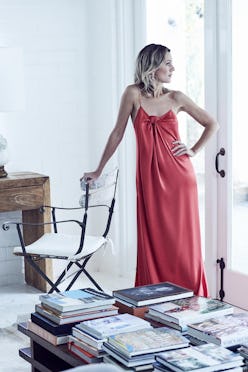 Selecting a look for a big event—whether a best friend's wedding, an important work gala or maybe just a dressy night on the town—can push a woman to the limits of sanity. It just shouldn't be that hard. Which is why we love Armarium, a chic designer loan site that allows you to rent a high-fashion piece, wear it once, then return it. And now, to help you complete your look, Armarium has teamed up with UK online retailer Farfetch on a curation of accessories you can purchase to wear with its treasure trove of loanable gowns from names like Marchesa, Roberto Cavalli and Prabal Gurung. We chatted with stylist Natalie Joos, a member of Armarium's Style Brigade, about the collab—below, see her input as well as some of our favorite pieces.
Dream Designer Duos
"This collaboration makes all the sense in the world to me. I have to attend a lot of events and dress up, and if I had to buy a new outfit every time, I would be bankrupt—and run out of space in my apartment. So I borrow or rent to supplement what I absolutely need to buy: the things I love and want to keep forever."
Natalie in a Vera Wang dress from Armarium and Sarah Robertsson earring from Farfetch.
Shop Natalie's Look
"I particularly like to purchase accessories such as shoes and bags. I travel a lot, and to avoid schlepping my entire wardrobe in a suitcase, I rent or borrow from local designers and showrooms, most recently Armarium. I've been doing this for years. It's about time someone cashed in on this arrangement!"
Natalie in an Alexis Mabille dress from Armarium and Eshvi earrings from Farfetch.
Shop Natalie's Look
Natalie in a Prabal Gurung gown from Armarium. DJ Kiss in a Roberto Cavalli dress from Armarium. Stylist Sophie Lopez in a Kris Goyri dress from Armarium.
Shop Natalie's Look
More Farfetch Accessories To Wear With Armarium Rentals