Let Us Make 2014 Your Most Major Year Yet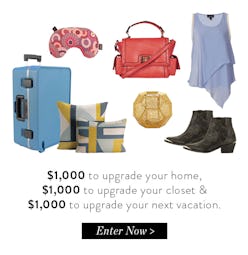 We're two weeks into the New Year— have you kept up with your resolutions? Whether you want to travel more, redecorate or simply dress your best in 2014, our prize du jour is sure to assist you in this mission.
Teaming up with some of our favorite friends, we're giving away $3000 worth of gift cards that will allow you to upgrade your home, your travel and your closet. Maj. If you want in on the giveaway action, simply enter here, and with the click of a mouse will be that much closer to elevating your entire 2014!