11 Ways To Elevate Your T-Shirt Game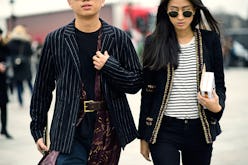 The value of a classic tee is indisputable; It's flattering, comfortable and looks great with pretty much everything you own. So why do you only have a white, cotton version? Branch out with these playful takes on the timeless staple.
The Sleeve Action Tee
Styling Tip: Pair with a high-waisted, cropped jean, colorful lip and a fun heel.
The Polo Tee
Styling Tip: Keep things preppy by pairing this polo tee with a pleated skirt and a colorful pointed toe pump.
The Ringer Tee
Styling Tip: Create a 70's inspired look by pairing this classic tee with dark wash flares or a button front suede skirt and clean belt.
The Silky Tee
Styling Tip: Create a chic and modern look by styling this silky tee with with black skinnies and black OTK boots.
The Sequin Tee
Styling Tip: Follow the lead of this season's street style stars by styling this sparkly statement with classic Levi's 501 jeans and a statement heel.
The Striped Tee
Styling Tip: Channel your inner Parisian by styling this ribbed cozy tee with a cut off black trumpet jean and a low heel ballet flat.
The Velvet Tee
Styling Tip: Follow in the footsteps of Kendall and Gigi by styling this velvet tee with distressed jeans and a pointed-toe ankle boot.
The Lace Tee
Styling Tip: Amp things up for date night by pairing this lace tee with leather leggings or a silky, black midi skirt.
Classic White Tee
Styling Tip: Layer this classic white tee underneath a silky slip dress for a 90's inspired look.
The Sweater Tee
Styling Tip: Keep things cozy by styling this wrap tee with vintage denim and sneakers.
The Distressed Tee
Styling Tip: Pair this airy white tee with white, wide-leg trousers and a clean white sandal for a chic, monochromatic look.