The Leather Jacket Of Your Dreams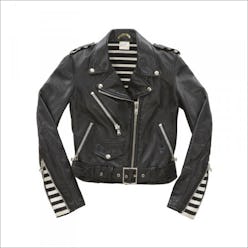 No two leather jackets are created equal – which is all the justification you need to amass a diverse collection of the closet staple. And we have just the biker-babe variety to begin your repertoire: Edith A. Miller x Schott NYC's motorcycle leather jacket!
Produced fully in the USA to honor the Americana mindset of both Schott NYC and Edith A. Miller, the asymmetrical piece celebrates Schott's 100th anniversary as a reinterpretation of the iconic rebel jacket worn by James Dean, Marlon Brando and Bob Dylan. Borrowing Edith A. Miller's chic, youthful aesthetic, the jacket is lined in her signature stripe knit, offering a sweet juxtaposition to its tough silver-tone hardware. Obviously, a great leather jacket like this goes with everything – but for starters, we suggest styling it with cropped skinny jeans, block-heel booties and a black manicure.
Availability: Edith A. Miller x Schott NYC Leather Jacket ($897)