5 Dresses Every Woman Needs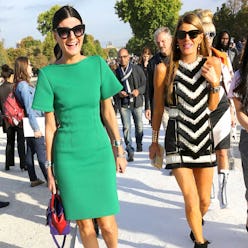 Dresses solve a lot of problems. When you need a killer look but find yourself staring blankly into a closet full of clothes, that go-to frock can save the day. And while a signature sheath or magnificent maxi has its place, certain occasions call for something sexier, dressier or more sophisticated—especially times in which you need to be polished yet comfortable, look alluring but imbue sophistication or appear appropriate but not drab. The solution? Five key dresses to keep yourself covered (literally and figuratively) whether you're gearing up for a first date, attending a family function or prepping for an interview. And while temperature plays into your ultimate decision on the day, experiment with accessories and you'll find these silhouettes are easy to dress up and down, season to season. Here, the five styles to invest in immediately.
5 Must-Have Dresses
The Maxi Dress
From vacation style to the wedding circuit, a gorgeous maxi is relaxed in silhouette but eternally elegant. Opt for a bold color or delicate details.
The Mini Dress
Whether it's date night or an evening out with the girls, a sexy mini is a playful way to show off your shape. Balance the slinky style with smart accessories or an elongated topper.
The Midi Dress
For sophisticated occasions—a sleek midi ensures polish in an interview, at the office or for family affairs.
The Transitional Dress
A lightweight long-sleeved dress effortlessly carries you through the seasons—pair with sandals and a tan now until the weather calls for a coat and over-the-knee boots.
The Gown
Formalwear can be daunting, but a timeless gown in a bold color and classic silhouette will keep you prepared for elegant affairs. Don't forget the jewels!