Celebrities Are Obsessed With This Tricky Outfit Formula—Here's The Affordable Way To Do It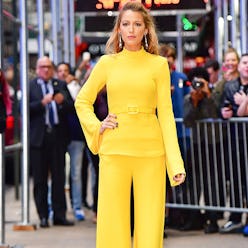 Colorful monochrome is making a comeback in a big way. Fashionable ladies like Victoria Beckham, Blake Lively and Gigi Hadid have taken the fail-safe outfit formula, modernized it and glammed it up. Appearing at once high-end and polished, a single hue worn head to toe can be taken from the office to cocktails to a holiday party. To show you how effortless the styling can be, we've compiled our favorite celebrity monochrome moments and shopped them out with affordable pieces to inspire your next bold look.
Victoria Beckham
Red has won over the hearts and closets of all fashion girls this season. Teaming two tones of the hue together makes for a high-impact look. A midi dress over slouchy boots is the ultimate fall silhouette. Turquoise earrings are cool as a contrasting finish.
Blake Lively
Blake knew what she was doing in this killer yellow look, proving how wearable the electric shade is for work or a formal occasion with clean lines and a classic silhouette. Capture the essence of her outfit by pairing a high-neck sweater with tailored trousers. Finish with tonal pumps and sleek earrings for total polish.
Gigi Hadid
The queen of monochrome, Gigi nails the trend in a pale blue ensemble made for an evening out. Embody her look with a menswear-inspired suit, cropped camisole and embellished pumps as a wearable interpretation that's meant to stand out.