Women of Style: Tracy Brennan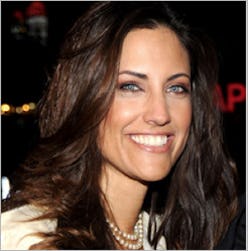 As both a mother and powerhouse agent at CAA, the most preeminent talent agency in the world, Tracy Brennan is the perfect representation of a woman who has it all – she has achieved such an enviable balance within both her professional and personal lives. Tracy is beautiful and smart, polished and powerful and is so well loved and respected within the industry. I'm incredibly excited to share her wisdom and style advice with you. –Mandana Dayani
Her first job in the industry… "My first professional job was working as an assistant to Talent Agent Chris Andrews, who was at ICM at the time. We both work as agents at CAA now, and have shared a great working and personal relationship for many years."
The skill sets required to be an agent… "I think one of the most important skills for an agent is perseverance. There is often a project, role or meeting a client wants that seems unattainable at first. As an agent, one needs to disregard that and continue on. Never take no for an answer. There always has to be a way to create an opportunity for a client. The word "no" is just the beginning of a conversation, not the end."
Tracy with actor Aaron Eckhart. Photo: Getty Images
Her career advice… "I just try to outwork the competition and have a focus, strategy, and plan as I approach each day."
Her mentors… "I try to keep an open mind and am constantly learning and evolving. I think all of my colleagues at CAA impart some sort of wisdom, career advice or help through challenging situations on a regular basis. Sometimes, my newest colleagues provide me with a fresh perspective on doing something in a new way."
Her biggest challenge at work… "Staying informed about the technology that is shaping our industry in new ways has been an interesting challenge. A few years ago, actors weren't tweeting, using Facebook or having their social media translated into Chinese for Tencent. It has been pretty incredible to watch Kerry Washington galvanize her #Gladiators via Twitter and witness their loyalty to Scandal. I always want to be ahead of the curve and be able to advise and educate my clients."
Kerry Washington and her Scandal costars post a selfie for their social media followers. Photo via @kerrywashington on Instagram.
Who she'd love to work with… "There is not one specific person; however, I am particularly fascinated by designers. It is amazing how they have gone from designing shoes, handbags, and clothing to creating lifestyle brands. There are so many designers who have their fingers on the pulse of how people want to live, and are creating lines for hotels, home decor, and fashion. I think many actors are starting to do the same thing. I love that creative people are able to express themselves through many avenues."
Her office wardrobe rules… "The one mistake I made as a young professional was trying to dress for other people, rather than trying to be true to my own style. I was always trying to look more grown-up and wore boxy navy suits and cut my hair in a short bob to look more mature. As I got older and more confident, I learned to incorporate my own feminine style. I can now wear what I prefer, and feel more comfortable in my own skin."
Her office must-have… "The one piece that rules my office wardrobe is a classic black Armani suit (fitted skirt and jacket). I purchased it at the Armani store in Milan while there on a work trip. Whenever I put it on, it brings back fond memories. It can be dressed down with a simple white t-shirt underneath and funky jewelry, or dressed up and worn to a black tie event with a silk blouse and heels. It is versatile and classic."
Tracy's work (and after-work) staples: Armani skirt suit; white t-shirt, statement jewelry, strappy heels, silk blouse.
How she balances work and personal life… "I have an amazing network of support, and have come to accept that I am not Superwoman. I welcome all the help I receive taking care of my son and have embraced the idea that it does "take a village" to raise a child. I think my son has benefitted from the influence and care of friends and family and is extremely independent and well-adjusted."
"I also plan ahead to try and avoid conflicts. For instance, I map out my work schedule months in advance and try and pick the best week to take a summer vacation so I can be the most relaxed and present when I am spending time with my son. Also, the Internet is extremely helpful in ordering his clothes and signing him up for his sports classes. I can accomplish those tasks on my own time rather than during office hours."
Her favorite stores and shopping sites… "My favorite stores and sites are Tory Burch, Dolce & Gabbana, Armani, AllSaints, Brian Atwood, Free People, and J.Crew. When I have time, I like to go into Elyse Walker in the Pacific Palisades. It's small and easy to navigate, with an amazing variety and great customer service."
"I always go to Dolce & Gabbana for dresses for awards season. I know the fit is great and their designs are perfect. When I am traveling, I love the flea market in Paris and Portabello Road in London for great vintage jewelry."
Tracy's fall picks: Burberry Prorsum Calf-Hair Coat, AllSaints Biker Leather Dress, Tory Burch Robinson Bag, Tory Burch Pacey Bootie.
What she would tell her college-self now… "Get out and travel. It's important to do an international exchange program. Once you lock in to a career, it is very difficult to take several months off to go see the world. There are so many fantastic "travel/work" programs offered through universities, so even if you don't think you have the financial means there is a way to do it. It is important to get different perspectives on life and see firsthand how other people live. It is so enriching."
How she recovers from a long day at work… "I remind myself of the important things in life. As soon as I walk in the door and see my son's smile, it immediately brightens my day. I also love to clear my mind by hiking or doing Pilates. I find running a hot bath with salts from Santa Maria Novella to be extremely calming, as well. I tend to read The English Garden magazine or a few quotes from Notes From The Universe before I go to sleep."
Tracy's post-work must-haves: Santa Maria Novella Pomegranate Bath Salts, $55; Notes from the Universe by Mike Dooley, $13