5 All-American Staples To Wear Past Independence Day
by Sarah Easley and Beth Buccini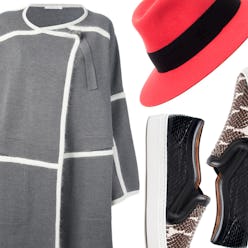 You broke out the stars and stripes for last weekend's blissful barbecues, boat rides and beach picnics. Where to go from here? Today Sarah Easley and Beth Buccini of famed NYC store and e-commerce site Kirna Zabete share five all-American staples that work well past Independence Day (and straight into fall). According to the fashion pros: "American style is real and never silly or fussy. It's uncomplicated, confident and competent. The trick is to wear clean, bold luxury pieces that work from day to night, city to country and work to play." In other words: sparklers and beer koozies, not required.
Sarah & Beth's All-American Must-Haves
Effortless Outwear
Chloe, $2350
"This grand scale knit coat is the right balance of drama and ease, which feels very American."
True Blue Denim
Mother, $210
"Faded, loose jeans are perfect for everyday. We loved them paired with a great blazer for a mix of polish and comfort."
Confident Accessories
Maison Michel, $474
"Of course, nothing says confidence like a hat. Extra credit when it's in a patriotic color like red."
Sportswear 2.0
Givenchy, $770
"We love the sporty side of American style. These luxe python sneakers take the concept of skate shoes to a new level."
Go-Getter Extras
Proenza Schouler, $1950
"The hands-free, get-things-done feature of this bag is so modern and has a wonderful collegiate feel."