5 Ways to Wear an Oversized Cardigan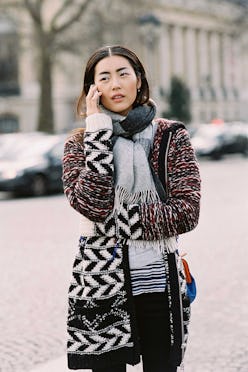 It's January. It's cold outside. Daylight is scarce, our beds are warm and it's getting increasingly hard to trade our cozy cocoons for the sparkle and stilettos that are de rigueur (for some of us, anyway) in the outside world. But rejoice! Herewith, five ways to stay cozy for any occasion.
Fair Isle Fitness
Keep your muscles warm after a sweaty yoga session in a monochromatic thick knit.
Cozy, Like A Boss
Weekend Woollies
Off-duty comfort has never looked so cute.
Goes With Everything
A cozy cardigan is the perfect plus-one for a steamy date, a stylish dinner with friends, or a comfortable companion to get you through the hectic pace of everyday.
Killing Them Softly
Slay in this slinky satin slip dress and killer heels, while staying cozily cocooned in cashmere.
Treat Yourself To A Style Upgrade
The best in fashion, beauty and lifestyle delivered to your doorstep. Learn more.