3 Athletic Collabs You Should Know About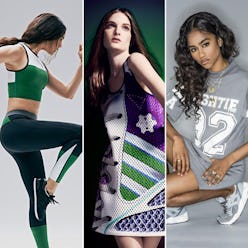 The days of sloppy workout gear are long gone, but so are the days of thinking athletic fabrics are confined to only gym gear. The new hybrid collaborations combine sportswear fabrics with ready-to-wear making the line between working out and hanging out even more blurred. Learn about the three upcoming capsules we're eagerly anticipating.
Mary Katrantzou X Adidas
Mary Katrantzou, London based Fashion designer known for kaleidoscopic patterns and hyper-color, teamed up with Adidas Originals for a capsule collection. Released this past July, Katrontzou created this line for someone who enjoys life and wants to have fun. Filled with cool printed dresses, tanks, leggings, and sneakers, this collection is truly innovative. This is their second collaboration together with a price range or $69-$655. To shop visit https://www.marykatrantzou.com/shop/mary-katrantzou-x-adidas.
Vashtie Kola X Puma
Music producer, DJ, and model—Vashtie Kola collaborates with Puma for FW 2015. Inspired by 80's B-Boy culture and 90's Alternastyle, this collection includes sneakers (one in all gold!), athletic apparel, reversible bomber jackets, and shirt dresses. Priced between $35 to $160. To shop visit http://us.puma.com/en_US/collections/explore/select/vashtie#main.
Derek Lam X Athleta
American fashion designer, Derek Lam, joins popular yoga brand-Athelta, for this fall. Priced from $69 to $495, this collection is filled with washable leather pieces, cashmere and leggings. "Fitness is very much a part of it and we always strive to create clothing which works in her life. Athleta's expertise in performance fabrics and fibers has offered us a really exciting opportunity to create a collection which complements perfectly what we do for Derek Lam 10 Crosby." -Derek Lam
Available for purchase September 9th in stores and online at www.athleta.com.