Blogger Sara Strand Rocks The Birkenstock Trend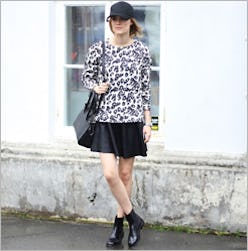 Pulling off the "less is more" mantra isn't always easy, but for our latest Internet crush, consider it cake—meet Norway-based blogger Sara from her eponymous blog Sara Strand! The Euro darling's style blog serves as a hub of OOTD posts, sartorial cravings, lifestyle samplings and reviews on each season's hottest trends. Her high-street-meets-casual, minimalistic and androgynous sensibilities make for a refreshing destination within the blogosphere—and to boot, yes, she's one of those girls that rocks the heck out of the of-the-moment Birkstenstock trend!
The Basics:
Sara Strand, 23, Oslo, Norway
What she's currently coveting...
Acne flower loafers, Marc by Marc Jacobs holographic clutch & a Valextra Dada bag
Her style in 5 words:
"Minimalistic, Scandinavian, androgynous, casual and easy-going"
What she's giving as hostess gifts this summer:
"There's nothing like fresh gladioli on the table during the summer, so I think that's the perfect hostess gift."
Items in her wardrobe she couldn't live without:
"Right now I'm wearing a faux leather dress from Only, either alone or with a sweater over it. Also I'm addicted to my Birkenstocks, they're just so comfy. Then it's the biker jacket. Don't know what I would do without it."