Rodger's Pick: Atelier Loafers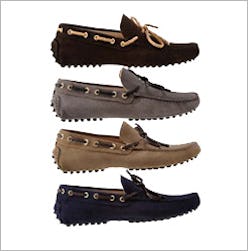 A classic footwear staple for men, the driving loafer remains relevant to any guy who appreciates a bit of laid-back sophistication in his sartorial repertoire. Discovered by none other than RB himself, if you or your dude are seeking a pair, check out the pragmatic options from Miami-based retailer Atelier. Offered in a variety of textures and colors, these loafers look sharp without breaking the bank—plus, as Rodger quips, "they're insanely comfortable!" And that, friends, makes it a done deal—Atelier shoes for the win!
Availability: Atelier loafers, from $149 to $195. For additional information, visit AtelierClothing.com.