I Wear These Reformation Pants Every Day — Here's How I Style Them
Reformation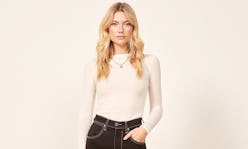 My style has never really exceeded the bounds of jeans and a T-shirt. I'll admit that I've acquired many a pairs of denim over the years, so much so that Marie Kondo would have some valid concerns about my closet. That said, it wasn't until recently that I found my match made in denim heaven — and I haven't been able to part with them since. Take it from me: Reformation's contrast-stitch jeans (aka the Carpenter Pant) are so good, I've decided to retire my other pairs until further notice.
There's nothing not to like about the Carpenter Pant: they're high rise, wide leg, and have plenty of vintage-inspired charm. As someone who was born in the '90s, the silhouette feels familiar and reminiscent of yester-year. A hammer loop on the left leg and all-over contrast stitching makes for a unique — yet wearable — silhouette that I've been unable to find anywhere else. But the real beauty of these pants lies in the styling possibilities.
Piecing together the perfect outfit every morning isn't exactly my forte (I'm a creature of comfort... and habit), so I've found myself slipping into this pair more often than not. Whether I'm elevating them ever so slightly for the office or dressing down for the weekend, there's nothing in my closet that doesn't pair well with these jeans.
If you, too, are of the belief that your favorite pants should be worn every day of the week, you're in luck: I went ahead and rounded up three ways to style my go-to pair. Ahead, shop the best pieces to take the Carpenter Pant from work, through the weekend, and even a night out.
For The Office
The Carpenter Pant is casual by nature, so I like to dress them up for more formal settings like work. That said, The Zoe Report office isn't your typical workspace — "dressing up" is more about personal style than anything else. On most days, you can find me wearing my contrast-stitch pants with a black turtleneck and patent leather boots. Lately, I've been mixing in color when I can, and I love the way slime green looks against an all-black base.
For The Weekend
My weekend style is all about comfort, which is why I keep my Carpenter pants in rotation even when I'm off the clock. Whether I'm running errands or grabbing lunch with a friend, I typically pair them with a comfy long sleeve. Considering New York City's frigid weather of late, my Dr. Martens (a street-style favorite that Kaia Gerber and Gigi Hadid frequent) and a black puffer coat are necessary additions.
For The Evening
Drinks at a dive bar? A show in Brooklyn? My favorite pants obviously have me covered. A slight variation from my everyday aesthetic, they look perfect when paired with an animal-print top (this one by Ganni is just sheer enough), a vintage-inspired bag, and thick hoop earrings. Done and done.