Rachel Zoe Gives You 5 Style Tips To Bring Out Your Inner Villainess, Inspired by Disney's Cruella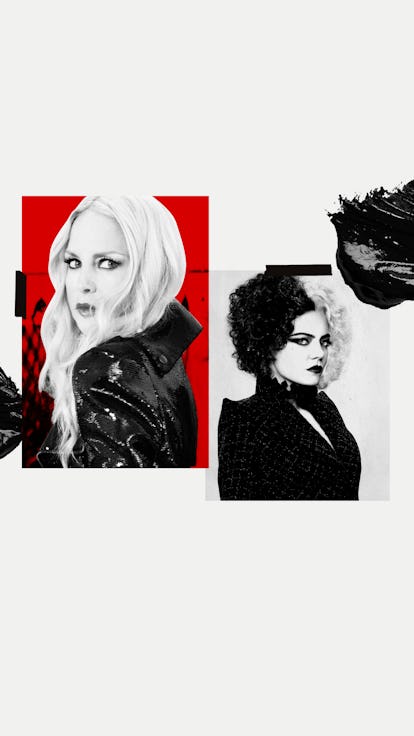 Whose signature style is black and white and undeniably red-hot? Cruella de Vil, of course! The devilishly divine Disney villainess is headed back to the big screen in Cruella, in theaters and on Disney+ with Premier Access on May 28. This time, we're seeing the iconic baddie in a brand new light: a can't-miss origin story starring Emma Stone in the title role.
Now, if you've ever caught yourself wondering how to inject some of that big bad gutsy glamour into your own wardrobe, well, we know the perfect like-minded soul to give you a few pointers.
"I can't even think of dressing in black and white without thinking of Cruella," says Rachel Zoe. "It's strong. It says there is no gray area. I have always believed that style is the best way to say who you are without having to speak, and she walks into a room and you know exactly who this girl is."
Take one look into Zoe's own closet — packed with vintage black-and-white looks and spiky heels — and it's clear she and Cruella could share a wardrobe. (Watch the video below to see exactly what we mean!)
"I just feel completely in line with her in every possible way," says Zoe.
Tempted? (Of course you are!) Give into your impulses and check out Zoe's style tips to bring out your own Cruella-inspired inner villainess, and make sure to feast your eyes on Emma Stone in all her bad-girl glory in Cruella, in theaters and on #DisneyPlus with Premier Access on May 28!
Break the Fashion "Rules"
Every villainess knows that rules are meant to be broken. (I mean, that's sort of one of the requirements of being a villainess, right?) And in no arena is this ethos truer than in fashion, especially for Ms. de Vil, who makes her life philosophy perfectly clear in the new film: "I want to make art. And I want to make trouble." Those are goals for all of us.
"I love that she is not afraid to wear a ball gown to breakfast," says Zoe of the character's no-holds-barred approach to dressing. "I certainly do not believe in the do's and don'ts," Zoe continues. "I dress how I feel. I don't care if I'm the most dressed up in the room — I have no issues wearing sequins to a breakfast meeting." So whether it's mismatching form and function (silk pajamas for a black-tie event, anyone?) or simply bucking the prevailing trends, make your style stand out by smashing the status quo.
Embrace Power Dressing
For Cruella, the right outfit is like a suit of armor — it makes her feel invincible. Whether a cherry-red floor-length frock or a leather LBD, it sends a signal that she's confident and in control. When Zoe wants to channel that same energy, she reaches into her closet and pulls out a power suit. "One of the things I admire the most about Cruella is her undeniable strength," she says. "And when I want to feel my strongest, I always put on a suit." And, once again, don't limit yourself to one type or idea of a suit, says Zoe. "You could go boxy, or slouchy, or tailored," she says. "Find your suit language. For me, I love them all."
Play With Shape
As they say, the devil is in the details, and when it comes to the cut, fit, and shape of her clothes, Cruella spares nothing. "Shape is something that should never be underestimated in fashion, or personal style, because a very strong shoulder, a very exaggerated collar, a very long cape — all of those things really are what creates drama and strength and power when you're getting dressed," says Zoe. "In the case of Cruella, it just really makes her even more of who she is." So how can you incorporate this idea into your own wardrobe? "If you're someone who wears a very simple fitted sleeve all the time, play with a little bit more of a puffy sleeve or a little exaggerated sleeve," says Zoe. "I like a bit of a batwing sleeve or a dolman sleeve, which is kind of like a little bit looser — but an exaggerated sleeve is everything."
Three Words: Accessorize, Accessorize, Accessorize
"Cruella loves a bold accessory; I love a bold accessory," says Zoe. Whether it's a black beret, red leather gloves, or white sunglasses, use these extra items to really play up your inner badass. "It is the key to personal style," says Zoe. "How you accessorize something basically defines not just who you are, what your mood is, what your style personality is, but it really gives any outfit an entire new life."
Let Your Lips Do the Talking
It's not just clothes that make the woman — the right pop of color brushed onto the apples of your cheeks or the curves of your mouth can send a strong message. "A red lip is something that can literally take your most basic outfit, and make it incredibly interesting," says Zoe. "One of my favorite things that I see on people now is they're not wearing a stitch of makeup, barely even concealer, but a strong red lip, and all of a sudden, their eyes light up, their hair becomes brighter, their outfit becomes more interesting. I think it's an attention-grabber, but it's also a power statement." Which is exactly why Cruella rocks that red lip so hard.
See Cruella in theaters and on Disney+ with Premier Access (additional fee required) on May 28!