Rachel Zoe's Favorite Spring 2014 Runway Looks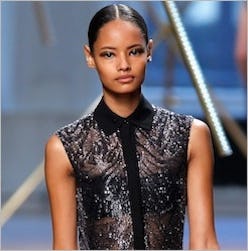 Rachel shares her top runway looks — from gorj gowns to chic day-off outfits — straight from the front rows at New York Fashion Week!
Michael Kors, Look 5
"Michael Kors knows how to deliver a girl a wish list. Everything that went down the runway was classic, flirty and unbelievably sexy." Photo: Courtesy
Alexander Wang, Look 39
"Leave it to Alexander Wang to always interpret the little white dress in an unexpected way." Photo: Getty Images
Prabal Gurung, Look 33
"This dress is a textural dream - a genius take on classic glamour. Prabal has outdone himself yet again this season!" Photo: Getty Images
Jason Wu, Look 37
"I'm loving this Jason Wu dress - it's such a fresh take on sequins." Photo: Getty Images
Jenni Kayne, Look 16
"Jenni Kayne's abstract animal print shorts and top are flawless - this look epitomizes easy California living." Photo: Courtesy
Rag & Bone, Look 27
"I'm obsessed with Rag & Bone's modern interpretation of the collegiate varsity sweater - so nostalgic!" Photo: Getty Images
Diane von Furstenberg, Look 22
"Diane von Furstenberg is my hero and the Goddess of fashion -- anything she touches is absolute perfection. What a beautiful jumpsuit and incredible show!"
Victoria Beckham, Look 19
"I love the juxtaposition of sillhouete and proportion. Victoria's tailoring is flawless!"
Derek Lam, Look 12
"The androgyny of Derek's collection was so unexpectedly sexy."
Altuzarra, Look 25
"Leather fringe makes my heart skip a beat...brilliant show!!!" Photo: Getty Images
The Row, Look 19
"Who does a floor length coat for spring? The Row, duh – I mean, I'm beyond obsessed." Photo: via Style.com
3.1 Phillip Lim, Look 3
"Boxy jackets, pinstripe pants, geo prints - so modern and so MAJ!" Photo: Getty Images
Oscar de la Renta, Look 14
"I'm head over heels for this romantic lace dress - Oscar is always perfection!" Photo: via Style.com
Vera Wang, Look 7
"Only Vera can give sportswear such a delicate, feminine touch - just flawless!" Photo: Getty Images
Narciso Rodriguez, Look 1
"Absolutely adore the way Narciso makes this season's black-and-white trend his own. This jacket is next-level!" Photo: Getty Images
Reed Krakoff, Look 26
"Effortless glamour has always been Reed's forte. He makes a cocktail dress so easy and elegant, which is a hard combination to master." Photo: Getty Images
Proenza Schouler, Look 29
"The detailed pleating on this dress is absolutely to die for - total show-stopper!" Photo: Getty Images
Tommy Hilfiger, Look 19
"Season after season Tommy continues to reinvent classic American cool – he always gets it right!" Photo: Getty Images
Calvin Klein, Look 34
"As if fringe could get any better. Calvin's interpretation was just stunning." Photo: Getty Images
Ralph Lauren, Look 49,
"Seriously obsessed with the androgy of Ralph's collection. The menswear-inspired silhouettes were everything!" Photo: Getty Images
Marc Jacobs, Look 45
"Marc's presentation is never regular. He never ceases to impress and amaze, and this season was no different. Absolutely breathtaking." Photo: Getty Images