Rachel Zoe's Top 10 Coats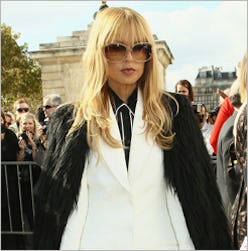 In honor of the arrival of full-on fall (a.k.a. super-chic coat season), our stylish Editor-in-Chief, Rachel Zoe, shares her top ten favorite outerwear styles of all time – and the dream buys she's loving this season.
Photo: Getty Images
The Trench Coat
"The crisp tailoring that defines the quintessential trench can transform even the most basic outfit. It's a staple that every woman should have in her closet." Burberry Laminated Trench Coat, $3595.
The Sporty Jacket
"Athletic-inspired jackets are having a major moment right now. Wear them with black skinny jeans, your favorite button-down blouse and a pair of classic pumps to dress it up." Vivienne Westwood Anglomania Bomber, $860.
The Menswear Coat
"When I style menswear pieces, I like to juxtapose them with feminine pieces. If I'm wearing a menswear coat, I'll pair it with layers of gold necklaces, '70s tux pants and platform heels." Stella McCartney Pinstripe Coat, $2780.
The Dramatic Coat
"A dramatic coat can really up the ante for day or night. Especially when you're jumping from the office to a party during the holiday season, a glamorous jacket is key to arriving in style." Bottega Veneta Peplum Coat, $3150.
The Military Coat
"Military jackets are bold by nature, with their myriad of brass buttons and structured collars – so be sure to style with minimal accessories and clean Chelsea or riding boots." Prabal Gurung Military Peplum Coat, $2995
The Animal Print Coat
"Animal prints are perfect for the woman that has a closet full of black clothing. A graphic leopard jacket is the perfect antidote to any monochromatic wardrobe." Christopher Kane Goat Hair Jacket, $6295.
The Knit Coat
"Knit layers are a staple in Los Angeles, where we tend to wear more transitional-weight coats. I love oversized, rounded-shoulder silhouettes, paired with platform wedge ankle booties." Rachel Zoe Maxwell Coat, $695.
The Evening Coat
"Feathers, silk, sequins – the options are endless when it comes to evening jacket embellishments. The key is to pick one you can get some mileage out of!" Givenchy Cropped Coat, $4429.
The Leather Jacket
"I have a penchant for leather motorcycle jackets – they go with pretty much everything! I wear them with maxidresses, flared jeans, layered jersey knits, they are my go-to, everyday jacket." Saint Laurent Leather Biker Jacket, $5645.
The Cape
"The cape style has lasted the test of time. It's a classic silhouette that feels elegant, stylish and modern at the same time." Emilio Pucci Jacquard Cape, $6490.