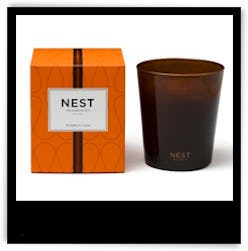 We know we're not alone in our pumpkin preoccupation, so we have a hunch you'll enjoy our banquet of items themed around the seasonal fruit. From a yummy chai candle to a lip-licking gloss and bubbly body wash, these pumpkin picks are just what you need to put a little spice in your life!
Nest , Pumpkin Chai Candle, $32
Wish your pumpkin spice latte would last forever? This chai candle will sweeten your home for 60 hours!
Bath & Body Works Pumpkin Sweet Cinnamon Pumpkin Lip Gloss , $8
8 For lips delicious enough to kiss, pucker up to this shimmering and sweet gloss.
Philosophy, Homemade Pumpkin Pie Shampoo, Shower Gel & Bubble Bath, $16
As alluring as its name suggests, Philosophy's 3-in-1 pumpkin wash will put a seasonal spin on your showering.
Dean & Deluca, Roasted Pumpkin Seed Oil, $14
Embracing the fall tradition of roasting pumpkin seeds, this culinary oil will become your new cooking go-to thanks to its savory-sweet flavor.
Éminence, Pumpkin Latte Hydration Masque, $52
Banking on the vitamin-rich benefits of pumpkins, this velvety mask will battle side effects of the chilly season to leave your face looking and feeling fresh.