The Best Outfits From Pretty Little Liars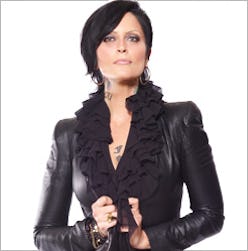 We can hardly wait for the return of Pretty Little Liars tonight, so to make the time pass more quickly, we thought we'd take a look back at the girls' best style moments. And who better to lead us on this reminiscent journey than the show's envelope-pushing costume designer? See what Mandi Line (@tankgirlyo) has to say about her all-time favorite PLL outfits!
Click through for Mandi's favorite looks!
"So far from Spencer's usual gag-me-preppy! This was so random and sexy and, hello, did we see the belt buckle!"
"To this day people say to me, 'You are so matchy matchy!' Well guess what, I can do it and people love it! Thank you Aria!"
"This one is straight out of my closet...Emily's first true edgy look!"
"I told Ashley (Benson), 'Omg thank you babe, you are my Versace '90s moment!' She said, 'Who??' And look at that purse, thank you my girl Rebecca Minkoff!"
"Thank you, Spencer, for fulfilling my Sailor Moon moment so perfectly!"
"You can't find this one anywhere but in my head; it is 4 different garments made into one! It was a show-stopper on set."