How To Look Chic When You're Expecting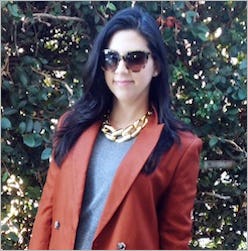 There are so many boxes to check when putting together a maternity outfit for the office. You've got to make sure it's professional, comfortable and stylish at the same time (and that's not even taking into consideration budget or weather conditions!) Setting a great example of cool pregnancy style in the Team Zoe office is, of course, our maj Editor-in-Chief as well as her Director of Brand Partnerships, Marisa Lee Runyon! Check out a few of Marisa's 9-to-5 looks and pick up some of her sage styling advice for a quick lesson on looking chic while you're expecting.
Pregnancy Style Tip: You Need Great Jeans
"One pregnancy must-have for me was a perfect pair of maternity skinny jeans. I like to throw these J Brand skinnies on with a tee and relaxed blazer for an easy work outfit."
Shop Marisa's Look
Kule Hugo Blazer, $495; J Brand Maternity Jeans, $216; T by Alexander Wang Tee, $78; Nasty Gal Living Large Necklace, $28; Casadei Nude Pumps, $690; Rachel Zoe Charlie Bag, $395.
Pregnancy Style Tip: Embrace Bump-Friendly Trends
"These boyfriend jeans used to fit much looser, but I am glad that I can still wear them with a bellyband for a little while longer!"
Shop Marisa's Look
Warby Parker Baxter Glasses, $95; Piamita Isabella Blouse, $300; Curent Elliott Boyfriend Jeans, $365; Shoedazzle Ermelinda Pumps, $44; Rachel Zoe Montana Backpack, $395.
Pregnancy Style Tip: Rethink Current Favorites
"I've been trying to get creative with pieces that I already have in my wardrobe to minimize how many maternity items I need to buy. Wearing this Rachel Zoe dress as a jacket over a loose tunic is a surprisingly comfortable look for a day of meetings."
Shop Marisa's Look
Warby Parker Greenwich Sunglasses, $95; J.W. Anderson Shirtdress, $365; Helmut Lang Sleeveless Jacket, $380; Rachel Zoe Montana Backpack, $395; L.A.M.B. Oxley Pumps, $245.
Pregnancy Style Tip: Shop The High Street
"Asos, Topshop and H&M are all great places to shop for maternity pieces; the cuts are more on-trend than other retailers and you don't have to stress about the investment. I'll be wearing this bump-hugging Asos dress throughout my entire pregnancy!"
Shop Marisa's Look
Zara Cotton Trench Coat, $139; Topshop Maternity Dress, $70; Rachel Zoe Tassel Necklace, $350; Rachel Zoe Fabien Booties, $455; J.Crew Leather And Suede Satchel, $298.
Pregnancy Style Tip: Borrow From The Boys (Literally)
"These faux leather leggings from Zara have a wide elastic waistband that made them wearable during the 1st and 2nd trimesters of my pregnancy. With my husband's oxford shirt, this is my favorite casual Friday look."
Shop Marisa's Look
T By Alexander Wang Poplin Shirt, $376; Zara Faux Leather Trousers, $60; Mango Houndstooth Suit Blazer, $60; Joie Day Dreaming Loafers, $185; Topshop Leather Tote, $150.