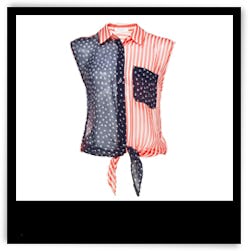 Whether barbecuing in your backyard or heading to a beachfront bash, your American pride will shine in one of these chicly-spirited pieces.
Equipment , Deim Tie Ront Blouse, $198
Get in the summer spirit with some stars and stripes! Sleeveless and stylish, this tie up is totally cook-out cool.
Haute Hippie, American flag-printed Shorts, $195
Power up your patriotic pep with these oh-so-appropriate printed shorts.
Current/Elliott , The Letterman Sweatshirt, $138
A stamp of your style savvy, this starry sweater is a sweet way to stay warm come sundown on the sand.
Lisa Marie Fernandez , Giovanni Bikini, $340
Meet your barbeque beau, we swear you two will get along swimmingly.
Anna Sui , Hearts & Stars Hat, $134
Enhance your ensemble with this Fourth-ready turban that achieves starry style.