Score A Paris Street Style Outfit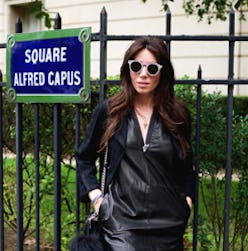 It's back to black as fashion week comes to a close. While the tonality of this ultra-cool outfit is symbolic for the sorrow we're experiencing knowing that spring 2014's previews are over, black dressing is a sleek look we just can't seem to break up with. Liven up an all-black getup with accessories the way that Team Zoe contributor, Natacha Steven did. We give her an A+ for her timeless, Parisian-chic style. Thoughts?
Natacha Steven
Black dressing is ideal for every season, you're guaranteed to look glam no matter what. Photos: Emeline Hamon.
Illesteva Striped Sunglasses, $260
We recognized Natacha's stylish sunnies instantly—Illesteva's way-fun designs are everything.
Joseph Coat, $895
Feeling inspired by Natacha's Missoni coat? Make this navy blue trench the finishing touch to your ensemble for an equally cool effect.
AllSaints Leather Dress, $700
This leather dress can be dressed down for warmer seasons and accessorized accordingly when the temperature drops. It's a true staple!
Fendi Fur Fob, $503
"This Fendi fur charm is my loyal companion. It adds a fun twist to my outfit when I clip it onto my bag." –Natacha Steven
Stuart Weitzman Tassle Loafers, $375
"Flats are a must after a long month of the fashion week-and-heels combo. I love these black and white loafers, they're chic and very comfortable!" –Natacha Steven