Greetings From Berlin: Our Latest Blogger Crush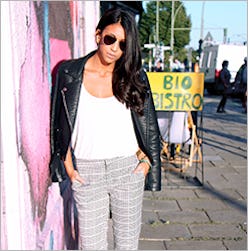 Always seeking out talent across the pond, when we fell upon Not Your Standard we couldn't help but appreciate the minimalist-chic approach blogger Kayla Seah infuses into her Berlin-based operation. Showcasing classic RTW with punched-up details (think: a leopard print accessory, an unexpected pop of color or an otherwise uber-trendy statement piece as the focal point), we love that Kayla infuses a lifestyle element into her page as well (we're going to make this banana vanilla pudding like, ASAP). Take a mini Euro-trip via Not Your Standard, and get to know Kayla below!
The Basics:
Kayla Seah, 24, Berlin (originally from Canada)
Her style in 5 words:
"Chic, wearable, classic, effortless with an edge."
Her favorite shopping spots in Berlin:
"Voo and & Other Stories" (Acne and Kenzo sweaters from Voo, leather purse and boots from & Other Stories)
Favorite beauty look for fall:
"Wine-hued lips at Derek Lam."
What she's currently coveting:
"Tibi Piper bootie, Saint Laurent Ligne Classique Y leather tote in grey and a mid-length, full circle skirt."
More looks from Kayla >>
More looks from Kayla >>
Don't forget to bookmark Not Your Standard for more looks from Kayla!