The Powerful Return Of The Midi Skirt Suit
And the un-stuffy way to pull it off.
Edward Berthelot/Getty Images Entertainment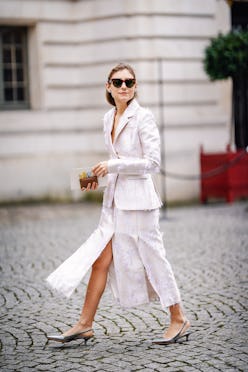 We may receive a portion of sales if you purchase a product through a link in this article.
For the fashion crowd at large, designer Miuccia Prada has become a north star — a source of creative inspiration and purveyor of the next It silhouette. "What you wear is how you present yourself to the world," Prada said in a 2007 interview with the Wall Street Journal. "Especially today, when human contacts are so quick. Fashion is instant language." Now, Prada is one of many creatives looking to a vintage silhouette to define our latest era of dressing: the midi skirt suit. It's back, and its language is power.
"It feels effortlessly sophisticated, like an easy-throw-on-and-go look for me that doesn't require too much mental gymnastics," says Alyssa Coscarelli of the midi skirt suit's return. Coscarelli, a creative and influencer who has partnered with both Prada and sister label Miu Miu in the past says that even when styling in-season pieces, she looks to the myriad of vintage skirt suits spanning across decades as sources of inspiration. The skirt suit has evolved through generations of women, adapting in shape and silhouette as their place in society evolved in tandem.
While, traditionally, a skirt suit was the uniform for women in a formal work setting — think Meghan Markle in Suits or Kerry Washington in Scandal — the silhouette has taken on a new iteration, one with a wider scope than the original office setting. The skirt suit is still powerful, but this time through its reinvention — with exaggerated vintage touches, borrowed-from-the-boys tailoring, and unexpected proportions.
Emma Rowen Rose, founder of fashion label Rowen Rose looked to Saint Laurent's iterations with exaggerated shoulder pads as particularly inspirational this season. "I love when styles clash, to see classic attire being revisited," she says. Rowen Rose's Spring collection includes her own interpretation of the midi skirt suit, presented in playful colors with '80s-reminiscent touches. "[The skirt suit] has the right balance between a strong statement and delicate femininity to achieve perfect elegance."
Emilia Wickstead Fall/Winter 23Matthew Horwood/BFC/Getty Images Entertainment
Prada Fall/Winter 23Victor VIRGILE/Gamma-Rapho/Getty Images
Saint Laurent Fall/Winter 23Giannoni/WWD/Getty Images
The suiting silhouette's inherent ease should not be overlooked. It provides an avenue in which one can throw a look together with minimal effort. "You don't have to really think about mixing and matching different pieces and how they look together, so a lot of the work is done for you," says Jenny Walton, an illustrator, designer, and well-documented midi skirt suit devotee. Throwing together an outfit in two minutes flat is its own sort of power — one that offers women the ability to effortlessly wrap themselves in sartorial armor whether it be for work or play.
While the look may still be the uniform of Wall Street women and lawyers, it's become so much more. Styled with just a bra top underneath, with sneakers, or cinched and finished off with a pair of heels, the midi skirt suit is its own force to be reckoned with.
On Trend
"A skirt suit is a classic look that will never go out of style," says Walton. "If you're looking for inspiration, watch some old Hitchcock films to get in the mood." She points to Prada and Miu Miu as modern purveyors of the trend. For those looking for an especially new take on suiting, "Miu Miu showed them sans skirts, that's quite modern," says Walton of the brand's Spring/Summer 2023 collection.
Luxe Leather
"The idea of wearing a midi skirt a bit lower-slung on the hips is a modern take on it," says Coscarelli, who styled her leather Mango set above with a casual tee. "Don't be afraid to show a little midriff." While the relaxed silhouette of this set gives the overall look a more casual feel, swap the tee for a button-down and add a pair of heels, and the final look is slick and sophisticated.
Minimal & Sleek
Don't be afraid to stick to staples like a blazer and a straight skirt in a neutral hue like cream or gray. Paired back to ladylike accessories, the look feels office-worthy without skewing frumpy or fussy. Wear the pieces separately with casual wardrobe staples to dress them down.
Classically Feminine
Here, Walton has cinched a Prada suit from several seasons past with a belt around the waist, but you can look to vintage-inspired silhouettes for a similar effect should you not have time to hunt around secondhand sites. A sleek skirt and trim blazer like the combo from Zara below are a nod to the streamlined skirt suits of the '90s.
Cheerful Color
A shade like bold bubblegum pink has the power to transform your look into something still sophisticated, but with a hint of playfulness. "[The midi skirt suit] has the right balance between a strong statement and delicate femininity to achieve perfect elegance," says Rowen Rose.