Yes, You Can Wear Bathing Suits As Clothes — And These Stunning Looks Prove It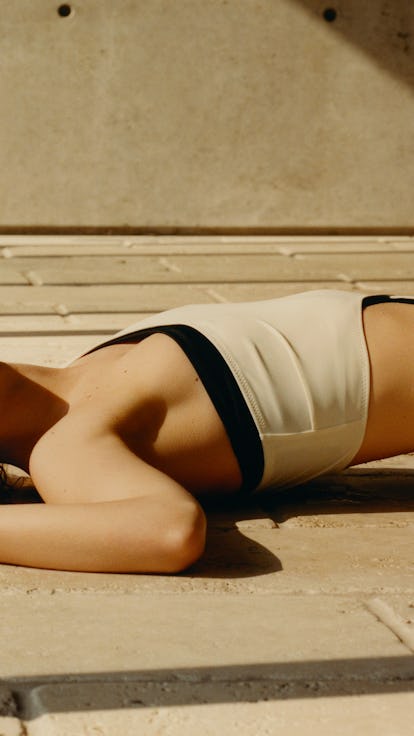 Summer dressing presents a unique conundrum: You love the clothes, but you want to put very few of them on your body. After spending much of the year orchestrating layers — the leather coats, chunky sweaters, hats, gloves, and socks now all in retreat — you are at your most selective. It's tempting to assign pieces to specific occasions and environments. For a wedding, a floral midi from Reformation. Beach weekend? Pack up your new, on-trend bikini or one-piece swimsuit and a breezy linen cover-up. But if you're truly looking to streamline (and in summer, who isn't?), consider siloing your wardrobe a bit less and making the season's most under-appreciated multitaskers — swimwear — do a little more work.
"Work-to-weekend" and "day-to-night" have become commonplace, catchall phrases that describe a shift in the way many women think about the way they get dressed. For Spring/Summer 2019, designers and wearers alike began asking: Why confine the aforementioned bikini to a day sunning in Santa Cruz or the Rockaways? Why shouldn't your swim top suffice for your morning bagel run? And how about for cocktail hour, and especially bringing your moves to the dance floor after you've enjoyed a few spicy mezcal margaritas? If you have yet to test swimwear's amphibious versatility, this is the summer to do so.
Design houses like Chanel and Dior have long incorporated swimwear into their runway collections. When he showed this summer's collections, former Creative Director Karl Lagerfeld even created a faux beach for Chanel, complete with rolling waves. But over the last few years, especially amid the spread of athleisure into every facet of dress, the industry has shifted toward comfort-forward styling, even for work.
Part of what makes the swimwear space so dynamic these days is the influx of indie brands that have helped ease that pressure you feel as you step away from the pool and huddle in a towel, dreading the complete sartorial transformation required to move on to another activity. Hunza G's reimagination of crinkled ready-to-wear fabric into swim, the underwire, bra-like styles by lingerie line Araks, and even Matteau's foray into ready-to-wear during Australia Fashion Week all serve as evidence that swim is no longer relegated to the water. This season's bathing attire is made to go ashore.
That's not to suggest that you step out of your apartment in nothing but a bikini and a pair of sandals. Still, finding ways to weave swimwear into your everyday wardrobe is the key to taking full advantage of what you own. Layering swim pieces with those breezy summer materials — soft linen, sheer tulle or slippery silk, and even the rough tug of denim — is an easy way to break yourself out of categorical styling. For the office — yes, the office — consider wearing a tankini under a light suit, or pairing a sleek Sportmax bikini and pair of Claudia Li trousers. The two might seem in opposition, but the relaxed fit of the pants will create a strikingly easygoing ensemble. A nude one-piece easily replaces a bodysuit or slip, serving as the base layer under a Nanushka coat.
For those set on staying true to the bathing suit's poolside roots, accessories can transform a single piece into something new. The addition of a chain belt (or repurposed necklace) slung across the hips, or a wide style by Carolina Herrera cinched at the waist, can add a layer of intrigue without piling on anything that would make you sweat. Consider, too, the power of curated accessories. By Far's square-toe kitten heels add a trend-forward element to balance out a more straightforward suit. A structured bag by Versace or sculptural earrings by Ming Yu Wang give polish to a simple Haight maillot or Ellery piece.
No matter how extensive or carefully selected a swimwear collection you amass, if you only sport these pieces when you're in toe-dipping distance from a body of water, you're never going to enjoy them as much as you could. Finding ways to incorporate your suits into everyday dressing is exactly how you'll make the most of the summer's most defining, and until now, underutilized wardrobe staple.
Photographer: Jens Ingvarsson
Photo Assistant: Shawn Cuni
Models: Alva Claire for Wilhelmina, Diya Prabhakar for The Industry Management, Kristina Abibulaieva for New York Models
Contributing Senior Style Editor: Mecca James-Williams
Fashion Market Assistant: Ryan Gale
Hair: Amy Farid at Honey Artists
Makeup: Angie Parker for LK Skincare and Kosas Cosmetics
Nails: Rachel Shim using Orly