Ready to Repel: Leandra Medine Gets Personal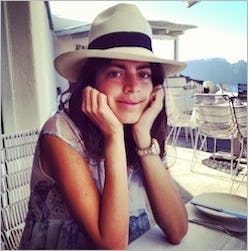 She finds humor in harem pants and has made boxy blazers a piece of clothing to covet. And through her daily musings on The Man Repeller, Leandra Medine's captured our hearts–and made us belly laugh more times than we can admit. But now the unexpected fashion plate is getting personal, sharing stories from her childhood and those inevitable sartorial struggles with her trademark blunt honesty, sass and whit in Man Repeller: Seeking Love. Finding Overalls. "I hope my readers walk away from Man Repeller with a sense of self-respect and confidence," Medine tells The Zoe Report. "I don't share a lot of personal stories on my blog, so I hope the book's readers can relate to the memories I share. And that we can all laugh at ourselves." No wonder we all think she's our best fashion friend. Beyond the hilarious tales, Medine takes a closer look at the connection between our memories and the fashion choices that end up defining them. Get set to laugh (as promised) and be inspired anew by Medine's still-fresh take on all things repelling.
Availability: Visit manrepeller.com/seeking-love-finding-overalls for more information and to order Man Repeller: Seeking Love. Finding Overalls. by Leandra Medine ($25).