Luvlette's New Lingerie Will Transport You To An Enchanted Garden
Stop and smell the roses.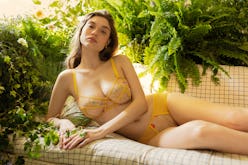 Summer fashion isn't limited to the breezy dresses, crop tops, and shorts that keep you cool and stylish all season long. What you're wearing underneath your clothes is just as important. After all, a great outfit starts with the foundation, and you're going to want undergarments that are not only comfortable but make you feel pretty good, too. Enter Luvlette's newest collection, Enchanted Garden. It features a gorgeous assortment of bras, bralettes, panties, loungewear, and sleep sets that are sure to become your new seasonal favorites.
The collection includes beautiful lace bras that offer adequate support without feeling stuffy or constricting (which is important in general, but even more so during the summer). If you're the type who appreciates a matching bra and panty set (aren't we all?), you'll find cute, coordinating high-waisted briefs, cheeky panties, and thongs. And don't forget to pick up a nightdress or PJ set — you're going to thank us when you're lounging at home, AC blasting, completely unbothered by the thought of actual clothes.
Keep scrolling to discover standout styles from Luvlette's Enchanted Garden collection.