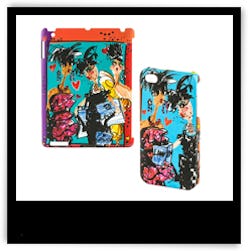 All hail, Fashion's Night Out! Arguably the most spectacular style event of the year, tonight brings together editors, designers, models, fashion bloggers and more to celebrate the love that we share of all-things-glamorous. Keep the FNO spirit alive year-round with one of these limited edition buys, hand-picked by yours truly.
Lanvin, Fashion's Night Out iPhone and iPad Cases, $85-$145
A little bit of Lanvin for our everyday? Don't mind if we do! Featuring Alber Elbaz's signature sketches, these eye-popping iPad cases will dress up your device to the nines.
CHANEL, Les Twin-Sets De Chanel, $26-$33
If we were to be loyal to just one mani-pedi shade this fall, it would be this exclusive plum polish by the purveyor of always-iconic styles, Chanel.
Fashion's Night Out, Canvas Tote, $50
With 40% of the proceeds from this statement tote going to the New York City AIDS fund, there is little room for hesitation in scooping one up. Once in possession of the cool canvas carryall, you can tote it everywhere from the gym to class to the grocery store.
J Brand, Brix Power Stretch Cargo in Vintage NightFall, $268
Ditch your standard blue jeans for a day in favor of these cobalt beauties. Exclusive in their hue to FNO, their star status is cemented with edgy zipper detailing.
Make Up For Ever , Eye Shadow Palette, $59 each
We'll jump at any chance to exercise our DIY skills, so we can't wait to design our own MAKE UP FOR EVER eye shadow palette. With over 125 colors and a handful of fetching cases to choose from, the results are sure to perk up your prettifying.