Leigh Lezark's Carry-On Essentials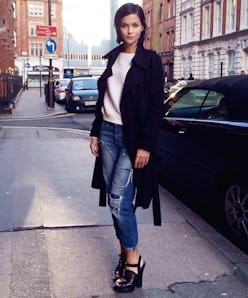 Any given month in the life of DJ/It girl Leigh Lezark can include traversing far-flung locales for modeling gigs or circling the globe to spin at a slew of star-studded events. Safe to say, she's more than qualified to school us on flying in style. Here, her top picks for getting through a flight like a pro.
Leigh's Frequent Flyer Hit List
"I regularly travel between New York and Los Angeles, in addition to bi-annual trips during the fashion seasons between New York, London, Milan and Paris. This particular fashion month is followed by jaunts to Barcelona and South Korea."
Up In The Air
Photo: @Themisshapes
"To pass the time on a long plane ride I like to catch up on all my favorite magazine like Gentlewoman, Vogue, Italian Vogue, Another Magazine, LOVE and V. I always have my laptop with me since a plane is a great place to quietly work on any mixes I have going."
Thirsty Skin Quencher
Kiehl's Skin Rescuer, $40
"Kiehl's Skin Rescuer is my #1 carry-on essential. It helps keep my parched skin hydrated throughout the flight."
The Multi-Functional Moisturizer
Embryolisse Rich Moisturizing Cream, $40
"This is my go to moisturizer, I love how smooth it feels on my skin. Plus, it's great on flights as well as under makeup."
Makeup Must-Haves
Chanel Stylo Yeux Waterproof Eyeliner, $32
"I always have some Chanel black eyeliner for when I land and a Yves Saint Laurent Touche Eclait pen to touch up any signs of jet lag."
"When I get off a plane, I instantly want to wash my face and brush my teeth so it's good for me to be prepared with those things in my bag since more often then not, we leave the plane and go directly to a job."
Perfect Purse
Givenchy Nightingale Satchel, $2,040
"My favorite purse to travel with is the Givenchy Nightingale satchel because it has enough space to fit all of my carry-on items, including a laptop and Adam Selman headphones."
Comfort Comes First
The Row Shama cropped stretch slim leg pants, $690
"For long flights I prefer to wear something like a cropped black pant, like these ones from The Row."
Cozy Knit
Acne Studios Oversized Cardigan, $476
"I usually like to bring a knit with me on the plane. Something ribbed or soft merino wool -- some of my favorite sweaters are from Chloe and Acne Studios.
Easy Flats
Repetto Ballerina Flats, $250
"I never wear heels on for a flight, this is the perfect time for comfortable flats. I have many I love from Repetto, Trademark and Chanel."