Leigh Lezark's NYFW Photo Diary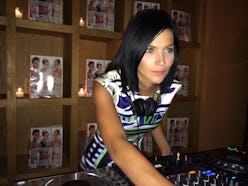 If a picture is worth a thousand words, then these snapshots of DJ and overall cool girl Leigh Lezark's Fashion Week shenanigans speak volumes. From wardrobe planning to street-style stalking to behind-the-scenes insights, her fabulous photo diary gives you a peek at NYFW through the eyes of an insider.
Pamper Station
"Getting some pre-fashion week pampering at the new Park Hyatt's spa."
Makes Scents
"As Coco Chanel said, 'A woman who doesn't wear perfume has no future.'"
Well-Heeled
"These are a few of my favorite things."
Carry On
"Karlito guarding some of my favorite Chanel, Versace and Fendi bags."
The Ultimate Shelfie
"Satisfying my sweet tooth with Chanel candy-necklace jewelry."
Sneaker Attack
"Getting in shape for Fashion Week with my new Chanel trainers"
Pattern Play
"Laying out my favorite pieces from Kenzo fall 2014 for when I host the E! fashion special from Lincoln Center."
Groove Is In the Heart
"Keeping cool in the DJ booth at Christian Siriano's fragrance launch with Atlanta de Cadenet Taylor. Apparently September is the new July, it feels like the middle of summer this Fashion Week!"
Time With Pals
"Oscar winner Marisa Tomei and Christian Siriano keeping me company while I play some tunes at his launch"
A Fine Pair
"Coco Rocha and I look so excited for Fashion Week to begin, don't we?"
Live From NY
"Cohosting the Live from Fashion Week special on E! I loved my look. A Kenzo top with Chanel shoes and accessories."
Pre-Show Shot
"First show of the season—I did the sound design for Costello Tagliapietra. Here I am before the show with Top Chef host Padma Lakshmi. How gorgeous is she!?"
Pastry Heaven
"Goodbye carbs, see you next month."
Good Eats
"Purple magazine dinner at Narcissa inside the Standard East Village."
About Face
"Need to keep my skin looking fresh with Kiehl's Rare Earth Cleansing Masque."
Perfect Fit
"Getting fitted at Versace in the new Versus collection by Anthony Vaccarello."
Off The Rack
"Obsessed with the entire Vaccarello x Versus collection."
Street Style Stars
"Fingers on the pulse with Deena Aljuhani Abdulaziz and Anya Ziourova."
Head-To-Toe
"Chilling backstage at Jason Wu."
Backstage Action
"Makeup madness backstage at Lincoln Center before the show."
Sweet Ride
"Has anyone seen my driver?"
Mix Master
"Djing at the Vogue magazine Runway Retreat party wearing Kenzo!"
Nailed It
"Artist @Jeanettehayes nail game is so on point!"
Shine On
"At the Purple magazine dinner wearing Fendi"
How Bazaar
"Can't think of a better way to kick off fashion week than with the ultra-glamorous @carineroitfeld at her Harpers Bazaar US Bazaar Icons party wearing Versace."