Bold Personal Style Takes LA Photographer Monique Jones's Craft To New Heights
The West Coast artist puts her spin on SOREL's latest collection.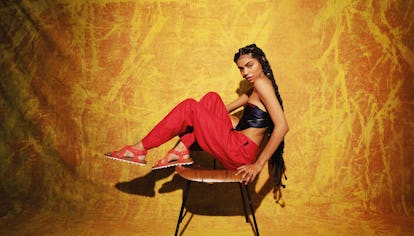 Spring always feels full of promise, and this year especially so. It's a chance to change for the better and positively impact the world. No one embodies that metamorphosis more so than Los Angeles-based photographer Monique Yvonne Jones. While we're all familiar with the selfie by now, Jones has elevated the popular practice to a veritable art form, reimagining self portraiture for the social media age. That precise hustle and ingenuity is exactly what SOREL is celebrating this season by spotlighting style experts whose work inspires and empowers those around them.
If you're not yet familiar with Jones, her signature style incorporates cinematic imagery that transports you into fantasy worlds of imagined characters — fully created by Jones. (One moment she's a glamorous '70s-inspired star complete with feathered hair and wire-rimmed glasses, and another, she's a '60s siren, bouffant and all.) "I'm expressing my creativity by showing how I create different personas and scenes only using the objects and locations I have available to me," Jones explains.
"You can do anything you put your mind to, so stay positive and keep trying to reach new heights."
The photographer's art is a discipline she works at every day, which means never losing sight of her creative purpose. "I have many goals," Jones explains. "Some are to develop my skills in photography and another is to be a better model by practicing posing and getting more comfortable in front of the camera." Jones cites her current hometown of Los Angeles as a constant source of inspiration for her, too, as being surrounded by like-minded creatives pushes her to keep challenging herself. "You can do anything you put your mind to, so stay positive and keep trying to reach new heights," she advises.
Make Bold Moves
Jones wears SOREL's Roaming Decon Sandal in Signal Red
Wearing head-to-toe red could be intimidating for some, but for Jones, this vibrant outfit is exactly the type of look she'd wear for her everyday outings. The high-waisted fiery trousers are the central focus, acting as the ideal match to her SOREL Roaming Decon Sandal in Signal Red. "[The shoes] really bring out the pants and the small red details in the top," she says of the pairing. She coordinates with a textured '90s-inspired purse for a truly unique ensemble that's the epitome of confidence. When in doubt, Jones goes for bold, and the statement-making style helps her feel as strong as she looks.
Shine Bright With Neon Details
Jones wears SOREL's Roaming Buckle Slide in Velvet Tan
Menswear-inspired gray trousers get a playful update when paired with Jones's neon crop top, and together, the look feels fresh and unexpected for spring. Finished with flat sandals, the look is ideal for an al fresco lunch with creative collaborators. Says Jones of the SOREL Roaming Buckle Slide in Velvet Tan, "What stands out most to me are the brown details, [I feel like I] can wear them with anything! And I especially love how the neon yellow looks with them."
Reach New Heights In Neutrals
Jones wears SOREL's Roaming Multi Strap Sandal in Velvet Tan
When experimenting with a more casual look, Jones opts for jeans and flat sandals — albeit, in her own way. Instead of a tee, she goes for a slinky tie-back top in warm neutral hues that pick up the natural brown and green shades in the SOREL Roaming Multi Strap Sandal in Velvet Tan. It's easy, comfortable, and cool, but with styling that feels deliberate enough to be special for a warm night out, kicking it with her closest circle of friends.
Looking to achieve your own new heights? Take a cue from Jones, and use your shoes as the unexpected finishing styling trick to your outfit. Whether it's pulling out a colorful detail and playing it off the rest of your look, or opting for head-to-toe neutrals, something as simple as your footwear can indeed inspire you to confidently take up space — empowering you to make your own waves in the world this spring.
Photography: Juan Veloz; Photo Assistant: Jon M. Dailey III; Art Direction: Diana Weisman; Makeup Artist: Valery Gherman; Hair Stylist: Ryan Richman; Branded Fashion Director: Jenna Wexler; Senior Branded Fashion Editor: Elly Ayres; Production Manger: Nancy Valev