Follow Friday—Kristina From Kayture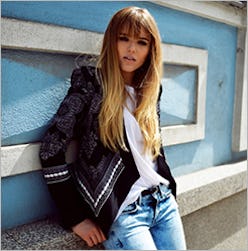 There's nothing like jet-setting the globe in style, especially if you're our latest blogger crush, Kristina Bazan! With looks to kill, the Switzerland native and Kayture founder has quickly risen in the blogosphere with her Vogue-worthy pics (thanks to her shutterbug beau, James!) and innately chic sensibilities. Whether on the streets of Russia, Berlin or right in her home city—it's hard to keep tabs!—you can count on the fashionista to set the trends, not follow them. Oh, and did we mention she's just shy of 20? Mon Dieu!
The Basics:
Kristina Bazan, 19, Geneva, Switzerland
Can't survive summer without:
Valentino flats (super comfy!), Clinique sunscreen, Guerlain Terracotta tanning lotion & Jimmy Choo Sasha sunnies.
Must-have for summer soirees?
Spotify—for parties and cocktails!
Currently coveting…
A Chanel boy bag, Valentino transparent bag & Giuseppe Zanotti heels.
Her style in 5 words:
Elegant, timeless, classic, feminine & edgy
5 songs she's streaming:
"Game of Love" / Daft Punk, "No Church in the Wild" / Jay-Z, "A Little Party Never Killed Nobody" / Fergie, "Aerodynamic" / Daft Punk, "I Love It" / Icona Pop