How Harling Ross Styles Maximalist Jewelry For Everyday Wear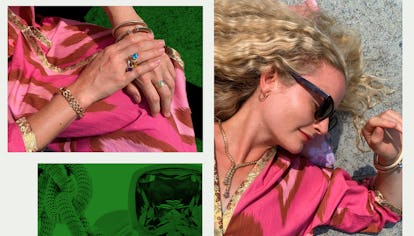 Journey With Jewels is our series that explores one's relationship with jewelry beyond adornments — as a force to transform, empower, and even draw on energy from the past. From perennial favorites to vintage heirlooms, the meaning we attach to these decorative objects range and reveal more than our styling preferences. This edition is with creative consultant and writer Harling Ross and is sponsored by Ben Bridge.
For Harling Ross, jewelry isn't just an accessory to an outfit — it's a meaningful memento. "The more deeply I associate a piece of jewelry with something or someone special — whether it's a trip when I bought it or a person who gave it to me or a particular phase of my life or time period — the more I tend to wear it," the writer and creative consultant tells TZR.
Ross has always had a penchant for unique finds and vintage goods. Her apartment features hand-me-downs from her late grandmother's home and her outfits often blend thrifted gems with emerging designer pieces. Similarly, her stunning personal jewelry collection (including an array of pieces from Ben Bridge) all follow her seemingly simple style philosophy: Embrace contrast.
"I tend to style put-together outfits with jewelry that errs on the side of casual or even kitschy," she says. "Whereas I will style casual outfits with my more traditional and sophisticated pieces." A self-described introvert, Ross says she prefers her style to speak on her behalf. Ross' necklace here, made from 14-karat Italian gold is just that: "It makes a statement before I've even opened my mouth," she shares. "It's iconic!" The necklace plays off the gold embroidery of her pink printed caftan-style dress.
Rather than mixing and matching different metals, Ross prefers to stick to one variety: "I'm a big fan of layering a bunch of different gold pieces together, and my Ben Bridge assortment really speaks to that impulse." Accentuating the necklace are link and paperclip chain bracelets, hoop earrings, and chunky rings with citrine, blue topaz, and amethyst stones. The gems add a pop of color and vintage appeal that can be mixed and matched with different complementary — and contrasting — shades. "​​Gold jewelry truly goes with anything; it's a quality that allows it to feel consistently modern over the course of many decades, even centuries," she says.
In the same way that Ross gravitates toward vintage and antique pieces that already have a lot of history embedded in them, she looks at the newer items she accumulates with an eye to the future: How can they take on new lives for years, even decades to come? "A piece of jewelry is even more meaningful when you're not the first person who's found meaning in it," she shares. It isn't just about items that have been passed down — but about what you can pass down, too.
"My philosophy is that price and material should not dictate whether a piece of jewelry is worthy of collecting. It doesn't have to be fancy or expensive; it just has to stir something in you."
Because of that emotional connection, Ross says that, for her, "styling jewelry can be a lot more ritualistic than styling clothes." And it's that sentiment that follows her daily, every time she adds a necklace or cocktail ring or statement earring to an outfit. "There are certain pieces of jewelry that I wear almost every day," she says. "Putting them on is just as comforting and delightful as ordering the same meal from the same Thai restaurant every Sunday night (which, by the way, I do)."
Photo Credit: Harling Ross