The J.Crew x CFDA Capsule Collection Is Here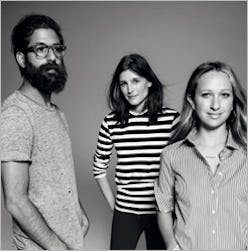 Featuring cool-girl jewelry from Jennifer Meyer, yummy summer sweaters by The Elder Statesman and floral-print footwear courtesy of Tabitha Simmons, the latest J.Crew x CFDA/Vogue Fashion Fund collection may be our favorite one yet. Not to be missed, the chic 18-piece assortment is a great jumping-off point for your warm-weather wardrobe. Clearly, we could gush about it for hours, but we'll let you get right to checking out the gorgeous lineup for yourself!
Check out the J.Crew x CFDA collection!
Jennifer Meyer for J.Crew Ruby Dangle Earrings, $138
Jennifer Meyer for J.Crew Edith Jeweled Cuff (in Blue and Tri-Color), $178
Jennifer Meyer for J.Crew Tri-Color Necklace, $298
Tabitha Simmons for J.Crew Maggie Mott Sandals (in Liberty and suede), $278
Tabitha Simmons for J.Crew Folly Rose Mary Janes, $378
Tabitha Simmons for J.Crew Daisy Willow Sandals (in Blue and Yellow), $328
The Elder Statesman for J.Crew Cashmere Ultra-Stripe Tank, $268
The Elder Statesman for J.Crew Cashmere Ultra-Stripe Tee, $348
The Elder Statesman for J.Crew Blurred Cashmere Crewneck Sweater (in Pink and Blue), $398
The Elder Statesman for J.Crew Cashmere Bell Sweater, (in Navy and Ivory), $498
The Elder Statesman for J.Crew Beach Blanket, $1498