At 97, Iris Apfel Says Her Personal Style Can't Be Defined & She's Going To Tell You Why
Jamie McCarthy/Getty Images Entertainment/Getty Images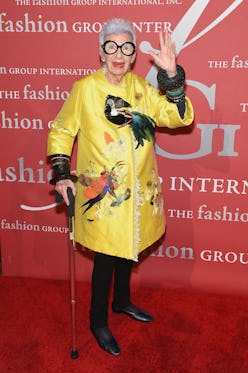 At 97 years old, Iris Apfel shows no sign whatsoever of slowing down. Her tell-it-as-it-is personality and eclectic style have made her an indisputable icon in the fashion world; you can find her everywhere from HSN selling colorful bangles she's designed herself, to the Metropolitan Museum's Costume Institute, where entire exhibits have celebrated her sartorial collections through the years. She was the subject of the 2014 feature-length documentary Iris (directed by Albert Maysles), the face of countless ad campaigns, and even recently teamed up with Mattel to style a Barbie in her own likeness — the ultimate sign that you've made it big. Now, Apfel is taking another huge step in her career. She announced in January that she is signing on with IMG modeling agency, a pretty big deal even if you *are* already a household name.
Apfel's colorful outfits and loud accessories have been a point of fascination for decades, but don't ask her to pick a favorite outfit — she tells The Zoe Report she loves everything (and she means everything) that she wears. It's this type of attitude that has so forcefully cemented Apfel as an icon — she says her style is a direct reflection of who she is as a person, and she's not about to let anyone tell her how to live.
Can you recall an outfit that you've worn that has been iconic for you?
Oh, I have a lot of outfits like that. Let me tell you, I don't play favorites. I don't have favorites. I like them all.
Is there one item in your closet that you've owned for the longest that you still have?
I have a dress that I wore on my first date with my husband, and that was 71 years ago. It's a beautiful Norell, and I very rarely wear it, but I do take it out. It fits, I should start to wear it again.
What does it look like?
It's hard to describe. It's very simple. It's beautiful, very fine wool crepe. It's sort of based on the idea of a shirt maker, but it's not a shirt maker. It has an inset that's black satin, collar and cuffs, and a black satin middle. It's fitted and it's very beautiful, very elegant.
The clothes shouldn't wear you. You have to wear the clothes. The clothes should be like part of your skin as far as the way they feel.
Is there any piece in your closet that instantly makes you feel more confident when you wear it?
Oh, a number of clothes are like that. I like clothes I feel confident in. I'm miserable if I wear something I'm uncomfortable with.
Would you say being comfortable is key?
If you're not comfortable, you can't look well. I mean, you have to be relaxed. The clothes shouldn't wear you. You have to wear the clothes. The clothes should be like part of your skin as far as the way they feel. If they're too heavy or too tight or too flashy or too something, it does something to your psyche, I think.
Do you have a daily uniform, or something that you wear just every single day?
Well, it depends on the season. Like right now it's chilly, so I wear tights, which keep me warm. I'm down here in Palm Beach and we've had a few serious cold snaps and I've been wearing black tights, a black cashmere sweater, and a beautiful coat sweater that I must have gotten at least 20 years ago from Ralph Lauren. It's black, red, and white, Navajo design. It's a coat sweater with a belt. It's warm as toast and I just love it. I think down here people must think I have nothing else to wear when I go out. I can't stand to be cold, and it's very toasty.
Would you say your daily uniform has changed at all as you've gotten older?
You know, I go with the flow. When I'm very busy and I get up in the morning and I'm in a hurry, I wear what I wore the night before, because it's all put together. But my style hasn't changed.
My style is me. It's the way I feel at that particular moment.
Is there one type of piece that you tend to gravitate towards?
Well, no. I mean, I need different kinds of things for different occasions. I work, I play, I go to galas, I go to different things, and you need different kinds of pieces for all of those.
Do you have one item where you own multiple versions of it?
Oh, of course. If I like a certain type of cashmere sweater, I might buy it in every color. Or a kind of pair of shoes.
In a few words, could you define your personal style? Is that possible?
No, absolutely impossible. I always say that my style is for other people to describe. My style is something to me. It may be something completely different to you. My style is me. It's the way I feel at that particular moment. Sometimes it's one way, sometimes it's another. I can't define it.
How would you say style has played a role in your career? Has it opened any doors for you?
Well of course. Style, it opens doors for everybody. Style to me is attitude, attitude, attitude, and your attitude is what presents you.
This interview has been edited and condensed for length and clarity.