If You Don't Like Clothes That Cling To Your Body, You'll Love These 40 Stylish Things Under $35 On Amazon
Chic pieces with flowy fits.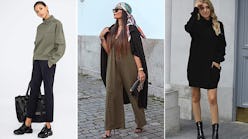 We may receive a portion of sales if you purchase a product through a link in this article.
Contrary to popular belief, it's not always a clingy, floor-length gown or slinky designer dress that makes you look expensive. As much as you may love high-maintenance fashion, you also know that comfort and luxury can go hand in hand — and have for ages. So, if you're ready to lean into comfier styles and trends, or simply don't like clothes that cling to your body, you'll love these 40 stylish things under $35 on Amazon.
The pieces below were handpicked by our team of editors for their amazing feel — the fabrics here range from chiffon to viscose to 100% cotton — sophisticated looks, and remarkably inexpensive price points. Because they've all been tested and approved by thousands of discerning online shoppers, you can rest assured that whatever you decide to add to your cart is going to make you look and feel your best. Plus, thanks to Amazon Prime shipping, any of these pieces can be yours in just two days (because yes, they're all conveniently available on Amazon Fashion).
If you're tired of feeling bombarded by ads and articles featuring clothes that cling to your body, this roundup — in which flowy styles, looser fits, and gentle materials abound — is for you.
This article was originally published on