One For The Boys: Cool Watches From Down Under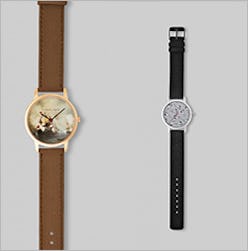 Founders Valentin Ozich and Barnaby Marshall established Auckland-based brand I Love Ugly with the mission to create classic-yet-unique men's clothing suited for a myriad of occasions. At the forefront of the contemporary men's fashion scene in New Zealand since their launch in 2008, the eccentric label is now making significant strides in the international sartorial sphere, implementing their passion for art, illustration and music into their must-have designs. Some of our favorite picks from the uber-cool line? The Battle Scene Watch and White Lady Watch—to name a few! So waste no time decking out your dude in some standout pieces by shopping the full collection here.
Availability: I Love Ugly watches ($93 each). For additional information, visit ILoveUgly.net.