This Is The Coolest Outfit To Wear This Winter
Pixelformula/SIPA/REX/Shutterstock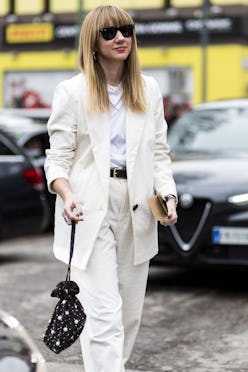 Whomever said that you shouldn't wear white after Labor Day had things all wrong. In fact, knowing how to wear white in winter is major tool to have in your arsenal when it comes to surviving cold weather in style, second only to a really, really good pair of boots. One of the best ways to make a big impact with your outfit is to dress monochromatically — and no shade delivers that wow factor quite as well as white.
If you're afraid of blending in with snowy backgrounds (and, okay, some unavoidable slush), just change your mindset: All-white outfits are a great way to ensure that your look is crisp and put-together. From more stark shades to creamy tones, white pieces lend a lightness to what can become an otherwise more dull and muted wardrobe for the chillier months of the year. And, unlike all-black outfits, which require the same shade of black, a subtle tonal difference between your outfit's shades of white — especially in knit materials like cashmere and wool — looks sophisticated, not sloppy.
If you don't know where to begin, the best place to start is with a little bit of inspiration. Below, you'll find nine monochrome street style looks that'll inspire you to refresh your cold-weather closet. Just be careful not to spill your latte.
Sleek trousers are a great way to make any look pulled together, but if wearing a full-on suit isn't your style, pair it with a sweater for a more laid-back feel. A great pair of heels and a statement coat complete the look.
Layer on silky white tops for a fun play on contrast. A layered outfit is great for holiday parties and fancy dinners. Add a pair of tall boots to finish off the ensemble.
An understated white dress is an easy one-and-done choice for winter. As it gets colder, swap out open-toed shoes for a pair of booties, and you can layer it under a long coat or a puffer jacket later in the season.
For those seriously chilly days, the combination of a cozy coat and a coordinated long-sleeve white top is an undisputed winner. Don't be afraid to pile on texture in the winter months. Not only will it keep you warm, but the mixed textures make for a very stylish combination.
If jeans and trousers are out of your wheelhouse, opt for a white midi skirt. This piece is super versitle and can be worn with a cropped t-shirt or jacket or you can do a French tuck to add some dimension to the look.
A white boxy jacket or button-down is a great way to brighten up an outfit when winter sets in because you can layer a long-sleeve top or sweater underneath and opt for your bottoms of choice—from cropped trousers to a midi skirt or even a pair of skinny jeans.
If you want to add instant sophistication to an outfit, look no further than the silky coat. The draped collar adds dimension to an outfit, and the midi-length cut draws the eye up so you aren't overwhelmed by fabric.
Utilitarian workwear is a trend that resurfaces every few seasons and this winter, ditch the traditional army green boilersuit for one in an off-white hue. Dress up this utilitarian style with a neck scarf or a pair of pointy heels.
Raw-hem white denim is a winter staple becuase it can be styled up or dressed down, depending on your mood. Wear white jeans with mules and a fancy blouse for a night out or with a plain white t-shirt and sneakers for running errands.