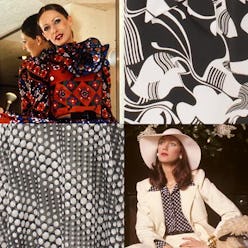 Just because you go to an office everyday doesn't mean you have to leave your style sense tucked away in the closet next to last year's flats. The work environment presents a great opportunity to show your fashion aplomb, especially when it comes to infusing vintage into your everyday ensembles. I always view '70s daywear as taking three distinct paths: ultrasuedes, OpArt and separates, so I've selected a few key pieces from WilliamVintage to inspire you to take '70s style into the daylight hours. It may be a decade most often associated with sequins and late nights, but don't overlook what vintage gems can add to your daily grind!
3 Vintage Styles to Steal
Photo: Getty Images
Ultrasuedes
A huge part of '70s chic was layering different textures rather than using color so leather, velvet, felt, brocade and—above all—ultrasuede were the height of style. Halston may have been king of eveningwear but his daywear is often overlooked. He was a huge fan of the man-made ultrasuede and its ability to resist staining and pilling and even be machine-washable yet look like the most luxurious nubuck suede. These chic examples are perfect for a day at the office.
Op Art
If you are feeling brave and want to stand out from the crowd, go for op art. Pattern reached a whole new level in the '70s with overscale, geometric prints taking over as a contrast to the muted tones so popular in daywear. Often made from variations of viscose and polyester, no one nailed the look better than the house of Lanvin, who created spectacular dresses that work as well for the office as they do on the weekend.
Separates
If you want to inject some stealth-chic into your look for the work environment, nothing says professional glamour more than a perfect silk shirt. Yves Saint Laurent was without a doubt the master of cutting the perfect shirt—loose enough for comfort and day-to-day life but expertly tailored and perfectly flattering. Remember that a great part of '70s style was inspired by the glamour of the '30s so you can broaden your search a little with this option.