How To Do Cabo In 48 Hours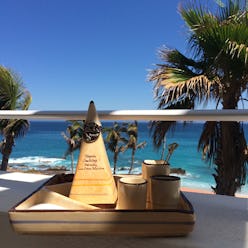 Sometimes your schedule—or budget—doesn't permit a month-long vacation, but that doesn't mean you can't secure a little rest and relaxation. A mini-break can be just as rejuvenating, so long as you pick a great destination and make your time there count. We dispatched our Fashion Director to Cabo for 48 hours, here is her guide to getting the most out of a brief trip to one of Mexico's most treasured vacation spots.
Pick A Great Hotel
If you're only allowing yourself a brief trip, make it count by opting for a beautiful resort. The One and Only Palmilla, where our Fashion Director stayed, is a great choice thanks to an attentive staff, great food and one of the very few swimmable beaches in Cabo.
Pamper Yourself
Indulge in a spa treatment to set the tone for the rest of the trip. Whether you opt for a massage, facial or blowout, schedule it for your first day to fully reap the benefits (there's nothing like a plane flight to undo the zen of a fantastic massage).
Stay Hydrated
Have your fair share of margaritas! By the pool, on the beach, before dinner while taking in live music or playing board games, no Cabo trip is complete without them. Just be warned that lime can amplify the sun's rays and give you a nasty burn.
Have One Epic Dinner
There are some fantastic eateries offering everything from traditional (and affordable) Mexican food to world class dining. We recommend a delicious steak dinner at the Jean-Georges Vongerichten steakhouse Seared—complete with a Mexican wine pairing—to break up the strict diet of tacos.
Try A Sunrise Yoga Class
Try a morning yoga class on the beach. Not only is it invigorating to be beside the ocean, you can then forgo any other physical activity for the rest of the day.
Do A Little Shopping
Visit the old town to wander through local stores and the impressive array of art galleries. Head there after 3pm when things have started to cool down.
Make Time To Do Nothing
Whether you're lounging poolside or on the beach, enjoy the view with a good book for at least a few hours.
Try A Watersport
Take advantage of the great surfing in Cabo. Everyone from beginners—we suggest taking a lesson—to experienced pros can find a break to enjoy. The warm turquoise water precludes the need for a wetsuit, but make sure you slather on the sunscreen so you go home with a tan rather than a painful burn.
Pack Light
No one wants to spend time packing and unpacking on a quick trip, so keep it to simple, lightweight staples you can mix and match.