How To Break Into Fall In Style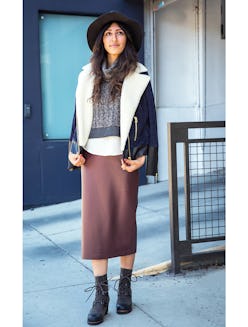 In recent years, fashion-obsessed girls across the globe have turned to blogging as a means of expressing and sharing their personal style with the world. One such digital maven, Parwana of The Central Steppes, caught our attention after exhibiting a keen eye for fall-ready ensembles. Though dressing for the elements can often prove tricky in the cooler months, Parwana is a pro—living on the East Coast she's regularly tasked with assembling looks that are at once functional and chic. Ahead, she shares how she kicked off her love affair with fashion, plus 3 ways she styles her SOREL boots—with the help of Rachel Zoe Studio—for the season ahead.
"I first developed an interest in fashion when I was 16. That was the first time I traveled to Germany, Holland and Paris. Seeing the way people dressed there blew my mind. I became obsessed with the Antwerp Six and the minimalist chic look synonymous with European style."
"I started The Central Steppes because I was previously doing a lot of styling work outside of my day job. When my 9-to-5 schedule slowed down, I was able to get back into fashion through blogging. Now I dedicate evening and weekends to it—it's my creative outlet."
"Long vests—or any sleeveless jackets—are one of my absolute favorite pieces for fall's transitional weather. You can wear them on a cool day with cozy layers, or slip them over thin, breathable separates if it's warmer."
"The SOREL Joan of Arctic Wedges look great with true blue denim, but you can make them look even cooler and edgier with leather pants or skinny waxed jeans. The different textures look great together—then pile on lots of chunky knits and scarves to add warmth to the look."
"I love color in the summer but for fall, neutrals embody the season's earthy coziness. I'm obsessed with the sophisticated palette of the greys, blacks and whites in this look—it goes great with the SOREL boots."
"I love a good pencil skirt, and this piece rendered in leather is amazing. The turtleneck sweater on top is the perfect finishing touch."