How LA Designer Sonjia Williams Is Shifting The Style Conversation For The Better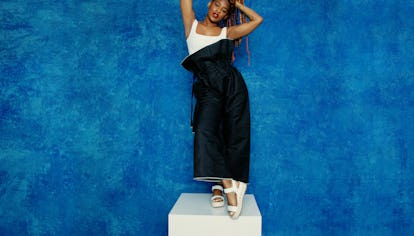 Though spring doesn't technically begin until a few months into the new year, it feels much more indicative of a brand new start than the weeks preceding it. New opportunities line the horizon, and suddenly we find ourselves encouraged to visualize our goals, get moving, and aim for the gold. If there's one person who knows the power of the hustle, it's Sonjia Williams. The Los Angeles-based fashion designer built her business by herself, from the ground up. Through her line, Something by Sonjia, Williams helps women feel strong and confident as they navigate through the world.
This season, Williams is focusing her hustle on growing her brand. She's creating more pieces that women can integrate into their daily lives, making sure it all aligns with her design philosophy. "I'm always thinking about pieces that will make women look and feel great," she says. "I also want to continue to make transitional clothing that women can wear year-round."
To step into that motivating and empowering springtime energy, she has to have the right footwear — which is where SOREL comes in. "Women come in all shades and sizes and should be celebrated as such. I think brands like SOREL are doing that exactly," she says. In the footwear line's 'New Hustle, New Heights' campaign, the brand champions unstoppable individuals committed to transforming their worlds for the better. These leaders might be shaping the future of the fashion industry, like Williams, or contributing to their communities in other impactful ways.
Sundays In Style
Williams wears SOREL's Cameron Flatform Wedge Sandal in Sea Salt
It's always been important for Williams to design timeless clothing that women can make a part of their daily lives, and for years to come: "Clothing that women can feel confident in and be comfortable in at the same time. Clothing that you can dress up or dress down, because women shouldn't have to choose." For the perfect Sunday farmer's market look, Williams pairs her paperbag-waist denim pants with SOREL's Cameron Flatform Wedge Sandal. She says the shoe is "such a standout sandal in Sea Salt, and really completes the entire look."
Monotone Magic
Williams wears SOREL's Cameron Wedge Sandal in Velvet Tan
Williams lives in the Downtown LA fashion district, which is a major source of inspiration for her. On one of her walks, she'd wear another one of her own designs: a matching cozy rib knit top and legging set — complete with draped skirt detailing that sets it apart. It's one of her favorite looks because it's "just as comfortable as it is fashionable." SOREL's Cameron Wedge Sandal in Velvet Tan has "just enough height on it to dress it up."
"Don't be afraid to go after your dreams, starting is half the battle."
Now that you have some style inspiration, it's time to dive into your goals. Williams knows firsthand how complicated it can be to start your own business, but it's all about taking the first step. "I do believe that there is something you can do right now to work towards your goal," she says. "Don't be afraid to go after your dreams, starting is half the battle."
Bright Spot
Williams wears SOREL's Cameron Multi Strap Wedge Sandal in Signal Red
Williams loves everything about being a fashion designer. "It has always been my dream, and sometimes I have to pinch myself because I feel so blessed that I get to wake up every day and do what I love," she says. To meet with friends at her favorite weekend brunch spot, Williams would pair her cropped tank and neoprene wrap pencil skirt with SOREL's Cameron Multi Strap Wedge Sandal. In bright Signal Red, she says the shoe adds "the perfect pop is color" to this all-black look.
Photography: Juan Veloz; Photo Assistant: Jon M. Dailey III; Art Direction: Diana Weisman; Makeup Artist: Ashley Victoria; Hair Stylist: Monique Hardy; Wardrobe Assistant: Moniqua Williams; Branded Fashion Director: Jenna Wexler; Senior Branded Fashion Editor: Elly Ayres; Production Manger: Nancy Valev